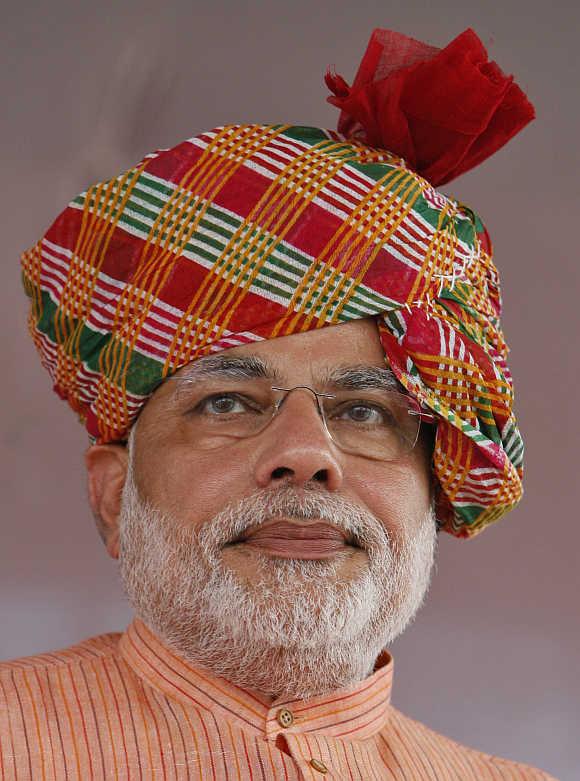 The Bharatiya Janata Party's prime ministerial candidate Narendra Modi on Wednesday called upon the people in Madhya Pradesh to rout out the Congress as it was "untrustworthy" and has always failed to fulfil its promises.
Addressing an election meeting at the Banganga Maidan here, Modi expressed confidence that his party would win Assembly elections in all the four states.
"There is so much anger in the minds of the people against the Congress that it is bound to lose the assembly elections in Delhi, Madhya Pradesh, Rajasthan and Chhattisgarh," Modi said.
"I call the Congress untrustworthy because down the years, it has always made promises only to break them..it should be rooted out," he said.
Trying to woo tribal voters, Modi said, "The Congress ruled the country for 50 years after Independence but it was only the government of Atal Bihari Vajpayee which set up a separate ministry for tribals."
It has not given a single thought for the welfare of tribals, he alleged. The Gujarat chief minister also showered praise on his Madhya Pradesh counterpart Shivraj Singh Chouhan for a number of things including reduction in infant mortality rate and deaths during deliveries.
"Chouhan should be lauded since he has done a lot for Madhya Pradesh at a very young age," Modi said.