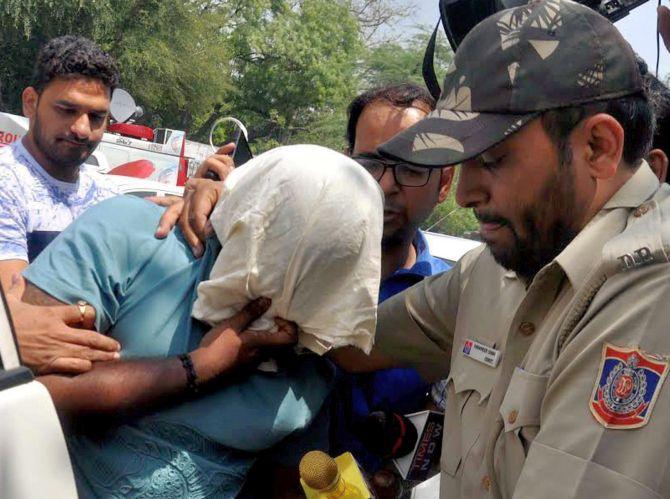 A special court on Friday remanded to two-day police custody an alleged hawala operator in the Election Commission bribery case, involving All India Anna Dravida Munnetra Kazhagam (Amma) faction leader T T V Dinakaran, to ascertain the money trail.
Special judge Poonam Chaudhry also sent alleged middleman Sukesh Chandrashekar, who was produced on expiry of his police custody, to judicial custody till May 12 after the Delhi Police said his custodial interrogation was not required.
The police sought two-day custody of alleged hawala operator Nathu Singh, who was arrested on Friday night, claiming he was given Rs 1 crore to hand it over to Chandrashekar.
The money was meant to be paid as bribe to Election Commission officials in the pending party symbol matter, the police told the court.
Singh was apprehended at the Delhi Airport for his alleged involvement in 'illegal transfer' of money to arrested middleman Sukesh Chandrasekhar by Dinakaran, said a senior police officer.
Dinakaran was arrested on April 25 night in New Delhi following four days of questioning for allegedly attempting to bribe an unidentified EC official to get the undivided AIADMK's 'two leaves' election symbol for his faction.
The AIADMK (Amma) faction leader has been accused of allegedly arranging the amount from undisclosed sources and getting it transferred from Chennai to Delhi through illegal channels.
The court had on April 26 remanded Dinakaran in five days custody of Delhi Police which said it needs to unearth the money trail and entire conspiracy in the case.
The court had also sent Mallikarjuna, an associate of Dinakaran who was arrested along with the politician, to police custody till May 1.
The Crime Branch of Delhi Police had searched the residences of Dhinakaran and that of his associate Mallikarjuna after securing warrants from the court as part of its probe.
Mallikarjuna, who had been accompanying Dinakaran everywhere ever since Chandrasekar's arrest on April 16, was arrested for facilitating an alleged Rs 50-crore deal between the leader and Chandrasekar.
IMAGE: Officials of Delhi Police Crime Branch escort Sukesh Chandra, the middleman accused of receiving a bribe after promising to retrieve the party symbol for AIADMK, in New Delhi. Photograph: PTI Photo