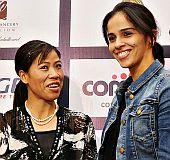 The Election Commission has expressed hope that its two new icons, shuttler Saina Nehwal and boxer Mary Kom, will be able to encourage women and youth to come out in large numbers to vote in the forthcoming Gujarat elections.
"EC has added Saina Nehwal and Mary Kom to its list of national icons. Till now we had former President APJ Abdul Kalam and Indian cricket captain M S Dhoni as icons. I am hopeful that our new icons will make debut appearances in Gujarat polls. The work is going on with them for promotional messages to be released soon," EC Director General Akshay Raut said.
Gujarat will go to polls on December 13 and 17.
A survey conducted by the Commission in Gujarat shows that women lags behind when it comes to voting, Raut said.
"EC has consistently faced the challenge of low overall voter turnout in Gujarat, and lower participation of women. The Commission is bracing up to this challenge and a slew of corrective steps are being taken this time," Raut said, adding that the poll watchdog is confident that the charisma of the two icons will yield desired result in the state elections.
"They (Sania and Mary) represent youth and women. They have been achieved milestones. I am hopeful they will make a good impact," he said.
The statistics of voter turnout in the past elections had not been encouraging in Gujarat. In 2007 elections, the turnout was less than 60 per cent and was abysmally low in 2009 Lok Sabha polls, Raut said.
As compared to the national average of 59 per cent, it was 47 per cent in Gujarat, he said referring to the 2009 general elections.
In another first, the EC has identified 30 per cent polling stations (13,500) in the state where voter turnout has been low. "We will implement Systematic Voters Education and Electoral Participation (SVEEP) measures at these polling stations," Raut said.
As part of the special measures to encourage voter participation, the Commission shall hold a special marathon rally in Vadodara, he added.