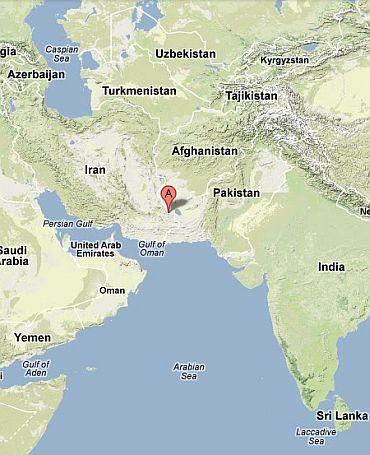 A major earthquake measuring 7.8 on the richter scale rocked the Iran-Pakistan border on Tuesday, tremors of which were experienced in North India, including New Delhi, Haryana, Rajasthan and Punjab.
Iran's Seismological Centre reported on its website that the quake struck at 3:14 pm local time (1614 IST) about 80 kilometres from the border with Pakistan and Afghanistan, agencies reported.
Iran TV also reported that 40 people have been killed in 'the biggest earthquake to hit in the country in 40 years'. An Iranian government officer told Reuters on condition of anonymity that 'they are expecting hundreds of dead'.
Tremors were also reported in Pakistan and Oman.
Tremors also shook the national capital and its adjoining satellite towns Tuesday afternoon, MeT officials said.

There was no immediate report of any loss of life or damage to property, they said.

The tremors, which were felt at around 1615 hours, lasted a few seconds.

Soon after the quake, people rushed out of high rises.

Tremors were also felt in Gurgaon.