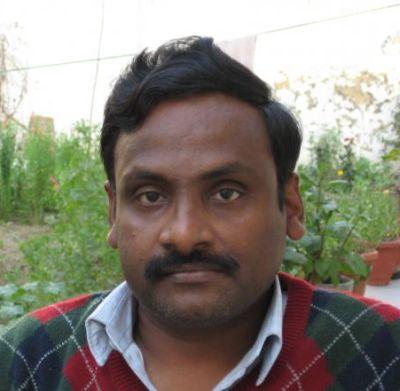 Suspended Delhi University professor G N Saibaba and four others were on Tuesday held guilty of having links with Maoists and were sentenced to life imprisonment by a court in Maharashtra's Gadchiroli.
A sixth convict was sentenced to 10 years in jail.
Principal Judge of Gadchiroli district and sessions court Suryakant Shinde delivered the verdict after a three-year-long hearing in the case.
Besides Saibaba, the others to get life term were Hem Mishra, Prashant Rahi, Mahesh Tirkey and Pandu Narote.
Vijay Tirki was awarded 10-year rigorous imprisonment. The judge also imposed a fine of Rs 1,000 each on the convicts.
The wheelchair-bound professor of English, who is 90 per cent disabled, and the convicts are currently out on bail. They were in the court when the verdict was pronounced.
All six were convicted under IPC section 120B (criminal conspiracy) and also five sections of the Unlawful Activities Prevention Act (UAPA) - 13 (unlawful activity), 18 (conspiracy), 20 (punishment for being member of terrorist gang or organisation), 38 - membership of a terrorist organisation and 39 - support to terrorist organisation.
Judge Shinde observed "the accused No 1 to 6 are active members of CPI-Maoist, a banned organisation, and its front Revolutionary Democratic Front."
"The prosecution has proved all the accused conspired together for carrying out illegal and violent activities of the banned organisation," he said in his 826-page verdict.
The judge said disability of Saibaba is no ground for showing leniency towards him. Though he is physically handicapped, he is mentally fit and acted as a "think tank and high profile leader" of the CPI-Maoist and the RDF.
During hearing, Special Prosecutor P Sathianathan had demanded life imprisonment for the accused. He said disability of Saibaba never came in way of him attending conferences in India and abroad, and abetting Naxal activities.
Defence lawyer Surendra Gadling said they would challenge the order in the Bombay high court.
Hem Mishra was arrested along with Mahesh Tirkey and Pandu Narote at Aheri in Gadchiroli district in August 2013.
Based on the leads provided by them, Prashant Rahi and Vijay Tirkey were then arrested from Deori in Gondia district. Saibaba was arrested in May 2014.
Saibaba was in jail for close to 17 months and was released on bail for three months by the Nagpur bench of the Bombay high court. After the end of three months, he moved the Supreme Court which granted him regular bail last year.
Tirkey and Narote are residents of Gadchiroli district, while Mishra and Rahi hail from Uttarakhand. Tirki is a native Chhattisgarh, while Saibaba resides in New Delhi.
The court said Tirki, who was handed 10-year jail term, was only found guilty of taking Rahi for a meeting with Naxals in forests of Gadchiroli.
Special Prosecutor Sathianathan expressed happiness over the judgement and said electronic evidence collected by the police nailed Saibaba.
The police had seized items like pen drives, hard discs and Naxal literature during a search at Saibaba's residence.
The trial started in November 2016.
A large number of people had gathered in the court premises to hear the verdict and police made elaborate security arrangements.