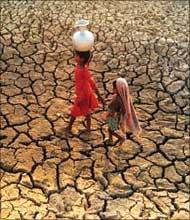 Water will be brought to Latur district by trains in the next 15 days while prohibitory orders were clamped near water supply spots in Parbhani town to prevent any violence as authorities grapple with drought in the worst-hit Marathwada region of Maharashtra.
The situation has turned so grim in areas like Latur and Beed that authorities are even mulling to shift the inmates in district prisons even as the Congress-Nationalist Congress Party Opposition on Thursday accused the Bharatiya Janata Party-led Government of failing to tackle the severe crisis.
"We have made arrangements for supplying water through train to Latur. The first such train will reach Latur in next fortnight," Revenue Minister Eknath Khadse told the Maharashtra assembly during a discussion on the acute water scarcity in Latur.
In drought-hit Parbhani town, prohibitory orders have been enforced near supply spots and water tanks under section 144 of CrPC till May 3 with deployment of Home Guards to check people milling around taps and tanks in large numbers that could result in law and order problems.
Water cruch has also hit Thane, adjoining Mumbai, with Municipal Commissioner Sanjeev Jaiswal appointing nodal officers for each of the 10 wards to take up measures to tackle the situation.
The Bombay high court on came down heavily on the BCCI and cricket associations for planning to hold IPL matches in the state when it is in the grip of a grim water shortage.
Khadse rejected claim by former CM Prithviraj Chavan that the BJP-led government in Maharashtra lacks the 'political will' to resolve the water crisis in Latur and other parts of Marathwada.
"There is no other issue more important (for the government) than this one" he said, adding, "we have the political will and that's why we are bringing water through Railways."
"Union minister Nirmala Sitharaman yesterday informed me that if needed, water from Telangana will be supplied to us (Maharashtra).
"No matter whatever the cost, we will supply water to these drought affected areas," Khadse said.
Underlining the gravity of the water supply situation, Chavan said, "We don't want long speeches but a solution. On Thursday, there is no other issue more important than this one."
"When we (Congress-NCP) were in power, we brought water through a over 100 km long pipeline to Osmanabad. Couldn't this government undertake a similar project for Latur," Chavan said.
A top official said authorities have prepared a contingency plan for shifting the jail inmates in Latur and Beed districts. "So far, no inmate has been shifted, but we will do so if the situation warrants," the official told PTI.
A Nashik report said parts of the district are facing drought-like situation.
"15 tehsils in the district are facing severe water scarcity following inadequate rainfall since the past three years," an official said.
Of these, severe drought is being experienced in Yeola, Nandgaon, Malegaon, Satana, Sinnar and Chandvad.
According to Nashik district collector Dipendrasinh Kushwah, water stock in 23 reservoirs stood at 7,994 mcft while the Gangapur dam, Kashyapi and Gautami, Godavari dams, which are main sources of drinking water for Nashik city, have 22 per cent storage at present.
The Nashik Municipal Corporation has effected 15 per cent water cut in the city since October-November last year.
One of the reasons for reduction of water from the Gangapur dam was release of water into the Godavari river for the Kumbh Mela.
The Thane civic body has also started desilting and cleaning of as many as 231 wells in the city and digging bore wells in different locations.
The nodal officers have been to check on illegal connections of water, ensure proper distribution from water tanks and check excess supply, an official release said.
They would also find out if there are any technical issues in the distribution and asked to submit reports every Monday to the commissioner.
The district administration has set up a round-the- clock control room and launched a toll free number 1077 to keep a check on commercialisation of the water being supplied in view of complaints of misuse of the tanker water.
The Bombay High Court had yesterday observed that water shortage is not just in Marathwada region, the situation is equally bad in Thane.