Gujarati bus driver Sheikh Salim Gafur, who defied terrorists' bullets and saved 52 Amarnath pilgrims, has been awarded the 'Uttam Jeevan Raksha Padak', the second highest honour given to civilians for gallantry.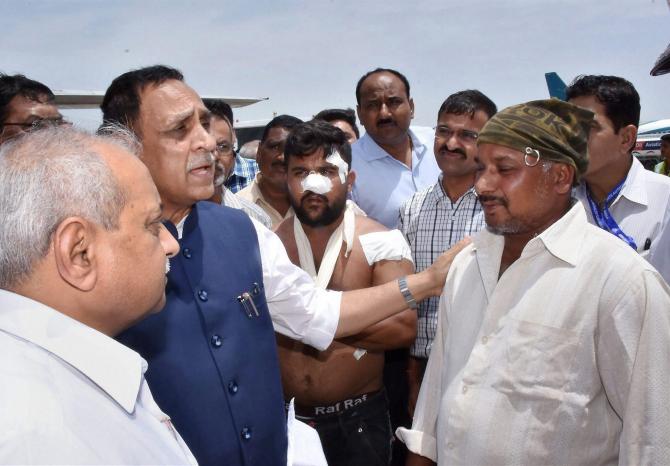 IMAGE: Gujarat Chief Minister Vijay Rupani and Deputy Chief Minister Nitin Patel, left, with Salim Gafoor, right, after the bodies of the slain pilgrims along with the injured and the survivors of the attack were flown to Surat on an IAF plane, July 11, 2017. Photograph: PTI Photo
This was announced by the home ministry ahead of Republic Day.
Sarvottam Jeevan Raksha Padak is the highest honour given to civilians for gallantry.
Gafur has been selected for the honour as he displayed some rare grit and bravery and continued to drive the bus of the Amarnath pilgrims, which came under attack by the terrorists on July 10, 2017, in Jammu and Kashmir, a home ministry official said.
Seven Amarnath pilgrims were killed and 14 others injured when terrorists opened fire on the bus Gafur was driving near Batengoo in Anantnag district of Jammu and Kashmir while around 52 other bus passengers escaped unharmed due to the presence of mind and bravery of the driver.
Besides, the award, Gafur will also be honoured with Rs one lakh cash at a special function later.
A total of 107 police gallantry medals have been given this year to police personnel with the maximum for Jammu and Kashmir Police (38 medals), followed by Central Reserve Police Force (35 awards), Chhattisgarh (10), Maharashtra (7), Telangana (6) among others. These also include 5 IPS officers.
The data shows that the maximum gallantry awards were given to the security personnel involved in counter-terror operations in Jammu and Kashmir.
Police medals for gallantry have been given to 35 personnel serving in Naxal affected areas and three in the north-eastern region.
As many as seven police officers were awarded police medal for gallantry posthumously. Among them six were from Chattishgarh Police who laid down their lives in anti-Naxal operations at Chintagufa in Sukma district.
CRPF assistant sub-inspector Nand Kishore Prasad has been decorated with police gallantry medal for showing exemplary courage in counter-operation against terrorists who attacked a bus carrying Border Security Force personnel on June 3, 2016.
A total of 785 police medals were announced for 2018 of which 616 were for Police Medals for Distinguished Service.