Commercial launch and supply to major government and private hospitals is expected in mid-June.
Sohini Das reports.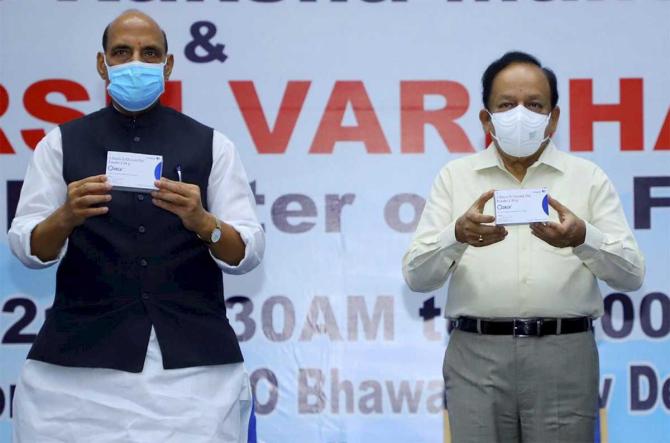 2-DG, a new investigational drug, has got emergency use authorisation from the Indian drug regulator for use in COVID-19. Developers claim the drug can inhibit viral replication, but doctors are divided in opinion.
So, what is this drug and why is it making news?
Let's find out.
What is 2-DG?
The drug 2-Deoxy-d-Glucose, or 2-DG, has been historically tested as a cancer drug that inhibits glycolysis -- the process by which cells break down glucose.
The drug 2-DG stops glucose supply to the cells, which then start dying. It is used as a cancer drug as it works by preventing supply of glucose to cancerous cells.
Glycolysis helps viruses to get energy to replicate and spread. Therefore, disrupting this can help in lowering viral replication.
The idea behind using it in COVID-19 is that along with other anti-virals, 2-DG can help prevent replication of the Sars-CoV-2 virus in inflamed lung cells of Covid-19 patients.
Who developed it?
Dr Reddy's Laboratories has conducted clinical trials with the Institute of Nuclear Medicine & Allied Sciences, a Defence Research and Development Organisation arm.
It was tested on 110 patients in phase 2 and 220 patients in phase 3 trials.
The drug got emergency use authorisation in May for use in COVID-19 patients.
DRDO scientist Sudhir Chandna told a television channel recently that 2-DG spreads through the body and reaches the virus-infected cells and prevents virus growth by stopping viral synthesis, and thus destroys the protein's energy production.
2-DG also works on virus infection spread into lungs, and thereby helps reduce the patients' dependence on oxygen.
Chandna added that recovery was 2-3 days faster for Covid patients who were put on 2-DG.
Phase 3 data showed that by day 3, freedom from oxygen dependence was seen in 41 per cent patients on 2-DG as against 31 per cent patients in standard of care (SoC), Chandna said.
SoC is a treatment guideline that can be general or specific.
DRDO has said Dr Reddy's Laboratories is their industry partner.
Is it then a wonder drug? What do experts say?
Experts feel more clinical trial evidence is required before this drug is widely used.
Dr Rahul Pandit, director-Critical Care, Fortis Hospital, Mulund, Mumbai and member of Maharashtra's Covid taskforce, felt that clinical trial results have shown that this molecule helps in faster recovery of hospitalised patients and reduces supplemental oxygen dependence.
"The drug will be of immense benefit to the people suffering from COVID-19. According to clinical data for efficacy trends, the patients treated with the 2-DG drug showed faster symptomatic cure than SoC on various endpoints," Dr Pandit said.
"A significantly higher proportion of patients improved symptomatically and became free from supplemental oxygen dependence (42 per cent versus 31 per cent) by day-3 in comparison to SoC, indicating an early relief from oxygen therapy/ dependence," Dr Pandit added.
2-DG accumulates in the virus-infected cells and prevents virus growth by stopping viral synthesis and energy production, Dr Pandit explained. "Its selective accumulation in virally-infected cells makes this drug unique," he said.
There are others, however, who maintain that it is early yet to rush into prescribing the drug without adequate care.
Dr Parul M Sharma, senior eye surgeon and director at Max Eye Care, Max Hospital, Gurugram, posted her concerns on Twitter saying that phase 3 clinical trials of this drug was done on a very small sample of 220 patients in 27 hospitals across India between November 2020 and March this year. The results, she said, were 'non-significant' compared to the control arm of standard Covid care.
Dr Sharma's concerns stem from the fact that the study protocol of 2DG for Covid excluded diabetics, those with coronary artery disease, chronic obstructive pulmonary disease, chronic kidney disease etc.
Hypoglycemia -- a condition in which the blood sugar (glucose) level is lower than normal -- is a side effect of this drug, she added.
Is this drug freely available and how much does it cost?
2-DG has not yet been launched in the market, and the price per sachet has not been announced. The drug comes in a powder form, which has to be mixed with water and then consumed.
Commercial launch and supply to major government and private hospitals is expected in mid-June, Dr Reddy's Laboratories has said, warning patients against procuring spurious versions of the drug.
Feature Presentation: Ashish Narsale/Rediff.com