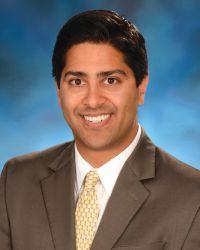 Dr Devinder Singh, associate professor, Division of Plastic Surgery, University of Maryland, School of Medicine, has become perhaps the first second-generation Indian American to head a state medical board.
Dr Singh has been appointed chairman of the Maryland Board of Physicians by Governor Martin O'Malley.
He is also the chief of plastic surgery at the Veterans Affairs Hospital in Baltimore, co-director of the Kernan Hospital Cleft, Lip and Palate Clinic, and holds an adjunct faculty appointment at the Johns Hopkins University's School of Medicine.
The Maryland board overseas one of the largest population of physicians in the country, with over 27,000 licensed physicians under its jurisdiction. The board not only issues medical licences to qualified physicians to practise in the state but also investigates and issues disciplinary action.
Dr Singh, 37, is not only the youngest board chair of any American state but also the only plastic surgeon appointed chairman of a state medical board.
Baltimore born and raised Singh's father Dr Inder Singh is a general practitioner in Baltimore City and his mother Gurnam Dr Singh is the head nurse of a psychiatric ward at Spring Grove Hospital.
His older brother Dr Varinder Singh is chairman of cardiovascular medicine at Lenox Hill Hospital in Manhattan. His wife Dr Erin Knepp Singh is a resident in anesthesiology at Johns Hopkins Hospital.
Dr Singh told India Abroad, "I am highly honoured to be recommended by the Maryland secretary of health and further appointed by the governor of Maryland. As chairman of the Maryland Board of Physicians -- one of the largest medical boards in America -- I hope to faithfully fulfil our mission of protecting the public health. I recognise in every case that we must always balance the safety of the public against the rights of an individual licensee."
"Our board must be fair, and should not be arbitrary or capricious in our sanctions or decisions. We should be open to improvement and reform if it helps increase our operational efficiency as an agency."
"For example, this year our board intends to ask the legislature for the statutory authority to conduct criminal background checks on applications for licence to practise medicine."
Dr Singh is an alumnus of Brown University, Columbia University, and Yale University. He is board certified in plastic surgery and is a member of the American College of Plastic Surgeons. In 2011, he was appointed by O'Malley as a member of the State Board of Physicians. He has been published extensively in over 30 peer-reviewed original scientific articles, multiple book chapters, and has received several grants supporting his research.
He has also completed 12 international surgical missions to provide pro bono humanitarian cleft lip care to indigent children around the world, including Thailand, Vietnam, Colombia, Guatemala, Dominican Republic, Honduras, and Uganda.