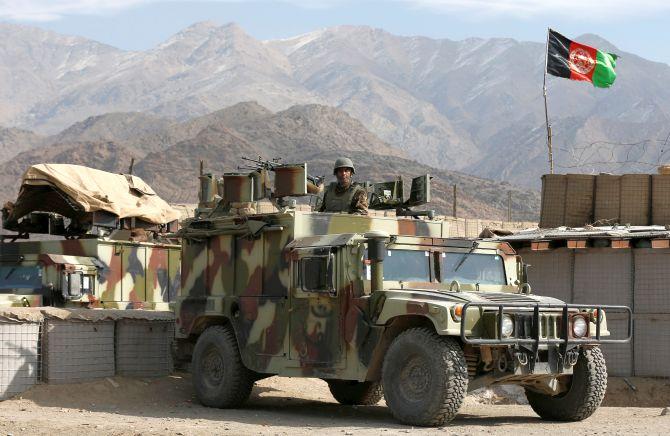 At least 43 Afghan soldiers were killed and nine wounded in a Taliban-claimed assault on a military base in southern Afghanistan which saw the insurgents blast their way into the compound with at least one explosives-laden Humvee vehicle, the Afghan defence ministry said.
"Unfortunately there is nothing left inside the camp. They have burned down everything they found inside," defence ministry spokesman Dawlat Waziri said.
Just two soldiers are known to have survived unscathed after the attack on the base in the Chashmo area of Maiwand district in Kandahar province, the defence ministry said in a statement, adding that six soldiers have gone missing.
The Taliban claimed the ambush in a message to journalists which said all 60 security personnel on the base were killed.
Ten insurgents died, the ministry said.
Meanwhile, India has strongly condemned the "barbaric" attack and asserted that states hosting terrorists and their sanctuaries must eliminate them immediately.
"We strongly condemn the barbaric attack today at the Afghan National Army base in Kandahar province," the external affairs ministry said in a statement.
It said India is "gravely" concerned at the escalation of terrorist violence against Afghanistan, despite hopes kindled recently by new strategies as well as efforts for bringing peace in the country.
"Coming on the heels of similar tragedies in Paktia and Ghazni, we share the grief of the families of the victims and the suffering of the Afghan people," the MEA said.
It said the terror attacks "demonstrate" that safe havens and support systems continue to be available to terrorists.
"States hosting the terrorists and their sanctuaries must eliminate them immediately and without distinction," it said, seen as a clear reference to Pakistan.
The MEA said these concerns were also highlighted yesterday by the United Nations Security Council.
"The beginning of Afghan-owned and Afghan-led national reconciliation requires an end to violence," the MEA said.
It further said, "India expresses solidarity with the people and the Government of Afghanistan in these difficult times."
Elsewhere in Afghanistan, a Taliban ambush in the northern Balkh province late Wednesday killed six police, according to Shir Jan Durani, spokesman for the provincial police chief.
Afghan forces have struggled to combat a resurgent Taliban since US and NATO forces formally concluded their combat mission at the end of 2014, switching to a counterterrorism and support role.
With inputs from PTI
Image used for representative purposes only. Photograph: Omar Sobhani/Reuters