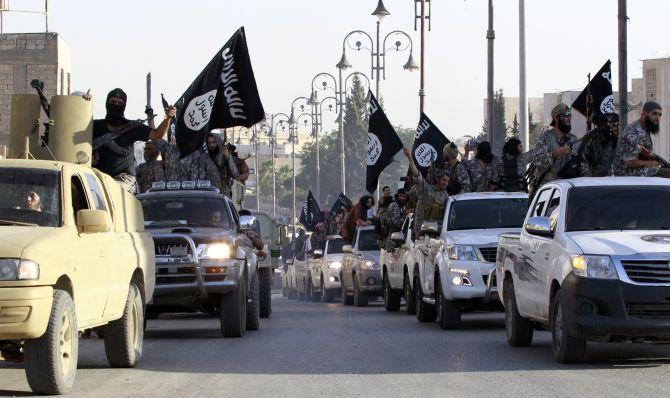 Amid Russia's escalating military activities in Syria, the White House has warned it not to interfere in the United States-led international efforts to destroy the Islamic State in the strife-torn region.
"The phas made quite clear that Russia should not be interfering with the 65-member international coalition that is seeking to degrade and ultimately destroy ISIS. We've made that quite clear," White House Press Secretary Josh Earnest told mediapersons on Tuesday.
There has been at least one preliminary conversation between the US and Russian military officials to try to de-conflict those military activities, he said.
He said many of the Russian military airstrikes have been carried out in areas where there are fewer or if any ISIS forces, and they're carrying out those military activities despite the fact that they say that they're focused on the terror group.
"Russians acknowledge that the situation will only be resolved when there's a political transition inside of Syria, and yet, their actions are geared specifically at propping up a leader that has lost legitimacy to lead that country for a variety of reasons," Earnest said.
Syrian President Bashar al-Assad has lost both the moral authority to lead his country, but he's also lost the support of 80 per cent of the population, he claimed.
The current Russian strategy of supporting the Assad regime and also hitting out at his opponents, he said, are likely to result in Russia becoming more isolated and Russia not accomplishing their stated goals, and antagonising if not outright angering a significant Muslim population inside of Syria and a significant Muslim population inside of Russia.
"So the significant negative consequences that Russia is facing right now as a result of their actions far outweighs any sort of diplomatic demarche that Russia could receive from the rest of the international community," he said.
The US, he said, would continue to stay focused on its strategy, to degrade and ultimately destroy ISIS.
"We are implementing that strategy. In recent weeks we've made some progress in terms of taking some ISIS leaders off the battlefield. We're going to continue to implement that strategy in a way that we think serves our interests."
But there's also no denying that what Russia is doing is further immersing themselves in a sectarian conflict that could ultimately lead to them being sucked into a quagmire in Syria, he added.
On Afghanistan, Earnest said President Obama's policy in particular troops presence would be driven by the situation on the ground and long-term strategy in this war torn country.
What the future presence of US troops looks like and what future strategy will be in Afghanistan is something that will be determined by a variety of things," he said, adding that President Obama will certainly take into account the recommendations that are provided by Gen John Campbell, commander of US and NATO forces in Afghanistan.
The president's decision about forward-looking presence will also take into account the relative strength or weakness of the Afghan security forces and the risks that US military personnel are facing in Afghanistan, he said.