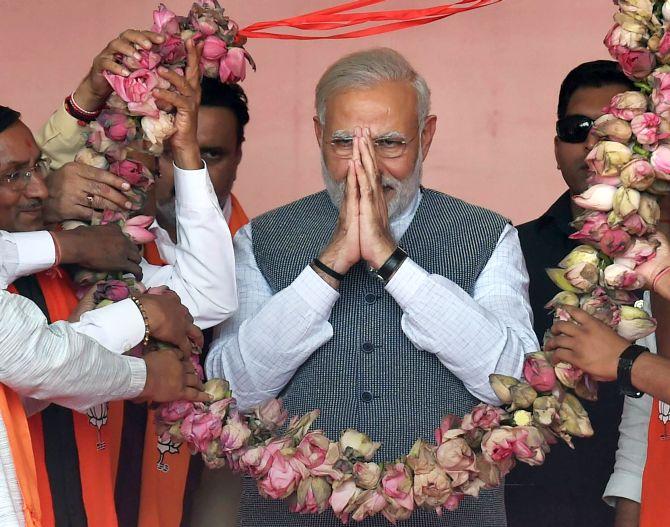 Law Minister Ravi Shankar Prasad on Monday condemned the "unwarranted" statement by Pakistan on Gujarat elections, and seemed to suggest that it was aimed at bailing out Congress party.
Prasad said Indians were capable of contesting the country's democracy on their own.
This came after Pakistan's foreign office spokesman Mohammad Faisal tweeted: "India should stop dragging Pakistan into its electoral debate and win victories on own strength rather than fabricated conspiracies, which are utterly baseless and irresponsible".
Prime Minister Narendra Modi on Sunday claimed at an election rally that there was an attempt by Pakistan to interfere in the Gujarat polls.
Modi also raised questions about the alleged appeal by former director general of the Pakistan army Sardar Arshad Rafiq for making senior Congress leader Ahmed Patel chief minister of Gujarat.
Modi alleged that Congress leader Mani Shankar Aiyar had held a meeting at his house which was attended by former prime minister Manmohan Singh, a former Indian vice president, Pakistan's high commissioner in India, and a former Pakistani foreign minister.
"Today a very curious statement has been released by Pakistan foreign office condemning Pakistan being dragged into India's election and stated that Indians must learn to fight the elections on their own.
"Yes, I wish to tell Pakistan that Indians are capable of contesting India's democracy on their own as they do... India's prime minister is a popularly elected PM and so is the Bharatiya Janata Party," Prasad told reporters.
India, he said, "completely abhors any outside interference in India's electoral affairs."
The role of Pakistan in promoting terrorism in India is too well known in the entire world and Pakistan. "Please stop giving us lessons. We are proud of India's democracy," he said.
"We are very productive of India's democracy and totally condemn this unwarranted statement from Pakistan," he said.
Image: Prime Minister Narendra Modi being presented a lotus-garland by the BJP workers during an election campaign rally in Sanand on Sunday. Modi raised questions about the alleged appeal by former director general of the Pakistan army Sardar Arshad Rafiq for making senior Congress leader Ahmed Patel chief minister of Gujarat. Photograph: Santosh Hirlekar/PTI Photo