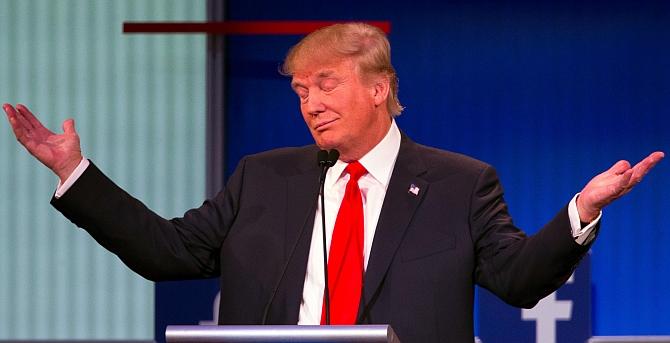 A colourful billionaire businessman with a propensity to court controversies, Donald Trump single-handedly ran one of the most unconventional presidential campaigns in which political correctness was tossed out of the window.
Upending the 162-year old Republican Party, the 70-year-old real estate mogul from New York tapped into the disillusionment of the average American against the establishment, moulding it into vicious anti-immigrant rhetoric which proved to be an electoral gold mine.
In the bitterly-fought presidential campaign against Democrat Hillary Clinton, Trump was often synonymous with controversy, with divisive pronouncements on Muslims, immigrants, economy and terrorism.
A succession of women accused him of sexually assaulting them. He also hogged headlines for several suggestive and denigrating remarks against women, including his own daughter, developments that threatened to derail his campaign.
Most prominent was a video that resurfaced after 5 years, in which Trump is heard boasting about being able to sexually assault women and get away with it for being 'a star'.
Trump had teased the idea of running for the presidency since 1987, but many feel the final straw for him was the 2011 White House Correspondents' dinner when he was made the unwitting target of President Barack Obama's pointed jokes.
The incident had unfolded amid Trump upping the ante on the birther row, as he questioned whether the United States President was an American citizen.
The annual dinner happened just a couple of days before the US Navy Seals raid that killed al-Qaeda chief Osama bin Laden in May 2011 in Pakistan. The killing of the man who masterminded the 9/11 terror attacks unified the nation and Trump faced a backlash for questioning the nationality of the President who took the world's most wanted man out.
Four years later, the tycoon entered the crowded field of the Republican Party's presidential campaign.
With 17 candidates in the fray including Jeb Bush, the second son of former President George H W Bush and younger brother of former President George W Bush, Trump's candidature was instantly dismissed as a reality stunt by many, including his own party members as well as Obama.
But far from being entertaining, the Trump campaign shocked people with divisive statements that threatened to undermine the long-cherished secular and Democratic American traditions.
Trump was also criticised by his party for insulting the parents of a decorated Muslim-American soldier who died in the line of duty in Iraq.
Such was his rhetoric in the campaign that top leaders of his own party, including House Speaker Paul Ryan and US Senator Ted Cruz, did not endorse him till close to the end of the election cycle.
Trump's rhetoric, however, resonated with the American working class, who were fed up with the establishment and the Washington elite and were also angry at losing their jobs to immigrants or to companies shipping work abroad.
The real estate mogul ran an unconventional election and will be the most unconventional president in US history.
Trump was born in Queens, the fourth child of New York real estate tycoon Fred Trump. He attended the Wharton School and got into real estate with a 'small' $1 million (Rs 6.5 crore) loan from his father before joining the company.
He helped manage his father's extensive portfolio of residential housing projects in the New York City boroughs, and took control of the company -- which he renamed the Trump Organisation -- in 1971.
Considered a ruthless businessman, Trump transformed his family's business from residential units in Brooklyn and Queens to high-class Manhattan projects.
Today his signature towers are among the most expensive and sought-after addresses in New York City.
Other properties bearing his famous name include Trump Place, Trump World Tower, Trump International Hotel and Tower. He has properties in Mumbai, Istanbul and the Philippines.
Behind this veneer of success, however, are a series of failed ventures -- Trump has filed for bankruptcies and has been accused of not paying his contractors and selling small businesses that work for him short.
He is known as much for being an entertainment tycoon as he is for owning prime real estate across the world. He built an empire in the entertainment business, and from 1996 until 2015, was an owner in the Miss Universe, Miss USA, and Miss Teen USA beauty pageants.
In 2003, he launched a reality television show called The Apprentice in which contestants competed for a shot at a job within Trump's organisation. The show, which became known for his firebrand and brutal tagline 'You are fired', ran for 14 seasons.
He married thrice and is currently husband to Melania Trump. His children are Donald Trump Jr, Ivanka, Eric, Tiffany and Barron.
Trump's focus in the presidential election has been 'Make America Great Again' and he has run a campaign built on promises to strengthen the American economy, build a wall on the border of Mexico to keep out illegal immigrants and plans to ban Muslims 'until our country's representatives can figure out what is going on'.