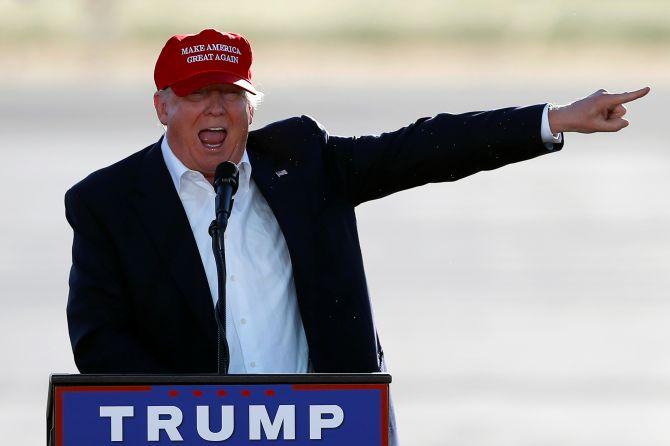 United States President-elect Donald Trump was on Wednesday named by Time magazine as its Person of the Year 2016 for his stunning upset victory in the presidential election.
"It's a great honour. It means a lot. I have grown up reading Time magazine. It's a very important magazine. It is a tremendous honor, I am lucky to be on the cover of Time in the past," Trump told NBC's news program Today minutes after Time announced the next US President was Person of the Year 2016.
Time said after campaigning as an anti-establishment, populist candidate, 70-year-old Trump was elected the 45th President of the US -- a stunning end to a presidential bid that repeatedly broke with political precedent.
The first runner-up for Person of the Year is Trump's rival in the presidential elections and Democratic nominee Hillary Clinton and the second runner-up are online hackers.
Prime Minister Narendra Modi was among the 11 candidates shortlisted by Time for its annual honour.
The Person of the Year is picked by Time editors from among world leaders, artists, corporate czars and organisations who most influenced the news, for better or for worse.
Modi won the online readers' poll conducted by Time magazine for Person of the Year 2016, the second time he emerged winner of the reader's choice poll.
The other contenders were US gymnast Simone Biles, CRISPR Scientists who developed a groundbreaking new technology that can edit DNA, Turkish president Recep Tayyip Erdogan, United Kingdom Independence Party leader Nigel Farage, the Flint Whistleblowers who along with civil-engineering professor Marc Edwards and local pediatrician Mona Hanna-Attisha blew the whistle on the lead-poisoned water in Flint, Michigan, singer Beyonce, Russian President Vladimir Putin and Facebook founder Mark Zuckerberg.
Photograph: Lucy Nicholson/Reuters