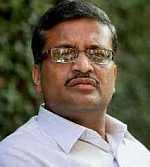 Senior Haryana Indian Administrative Service officer Ashok Khemka, who stirred a political storm by alleging irregularities in the Robert Vadra-DLF land deals, on Monday said he feels there is no need of security being provided to him and he wants a fair and quick investigation into the threat received by him.
The man who allegedly made threat call to Khemka was arrested from Gurgaon last week by the Panchkula police. The senior IAS officer met Chief Secretary P K Chaudhery in Chandigarh on Monday, who had called him for a meeting in the wake of the threat calls.
After meeting Chaudhery, who is also President of the State IAS Officers' Association, for nearly 45 minutes in the latter's office in the Civil Secretariat building, Khemka told reporters that it was a 'privileged communication and there is nothing for the media that I can brief'.
However, when asked to comment on the man arrested who is alleged to have made one of the threat calls to his office in Panchkula recently, Khemka said that he had given a statement to the police about this.
Khemka had last week said he had got two threat calls within a fortnight. Umaid Singh, arrested last week, was an employee of the Haryana Housing Board and was dismissed from service by Khemka in 2006 when he was administrator of the board, the Panchkula police had earlier maintained.
When asked if he feels the need for security, Khemka on Monday said, "I have very clearly said that security is a state of mind. I don't need that security paraphernalia." He felt that if the media persons, who are 'doing much more hazardous work than I do, don't need the security cover', then he also does not see any need.
"You (media) report such dangerous activities, venture into such dangerous things. If you don't get security, how can special security be deserving for me. And I always consider that security paraphernalia is a kind of showing distinction between the ruler and the ruled".
Khemka said, "I am a very common public servant. I don't need security as such. What I need is that if there has been violation, there has been infraction of law, a case must be registered and investigation must happen in very quick time.
"Action must be taken against the culprit so that it acts as a deterrent. If this is done, then I guess there would be no second incident (of threats being made)," he said.
With kin of another employee, who was also allegedly dismissed by Khemka, recently complaining to the director general of police that her husband had gone missing with an upset mind over five years back, Khemka sought an in-depth probe to unearth if a conspiracy was being hatched by some vested elements to provoke people to lodge complaint against him and make threats.
Khemka was transferred from Director General Consolidation of Land Holdings and Land Records-cum-Inspector General of Registration to his present posting in the State's Seed Development Corporation shortly after he initiated a probe into land dealings between Vadra and realty giant DLF.
A probe report submitted by four deputy commissioners in Haryana have given a 'clean chit' to Vadra over his land deals, even as the State government had three weeks back set up an Inquiry Commitee to probe within a month 'all issues raised by Khemka'.