The Modi government on Monday, September 7, provided Y-plus category security to Bollywood actor Kangana Ranaut.
The decision comes days after Ranaut likened Mumbai to Pakistan occupied Kashmir.
After her shocking comment, all hell broke loose between the movie motormouth and Maharashtra politicians (not from the BJP, of course; former CM Devendra Fadnavis has been silent about her jibe at Mumbai asmita).
After her comments led to an ugly spat with Shiv Sena MP Sanjay Raut, Kangana claimed she felt unsafe in Mumbai.
Kangana, who has been based in her native Himachal Pradesh during the lockdown, is a resident of Mumbai where she found fame and fortune in the movies.
Maharashtra Chief Minister Uddhav Thackeray took a swipe at Kangana's unfortunate PoK comparison, saying some people don't have gratitude for the city where they earn their livelihood.
The Modi government, of which Kangana has been a vocal supporter, has now provided the actor with a platoon of 11 plus security personnel, including a couple of commandos. The home ministry, of course, has not revealed the reason or threat perception that led to such an unusual security measure.
Kangana, who will visit Mumbai on Wednesday, September 9, for the first time since the lockdown began, has now hurled a fresh challenge at Sanjay Raut.
Dominic Xavier wonders when this verbal slugfest will end.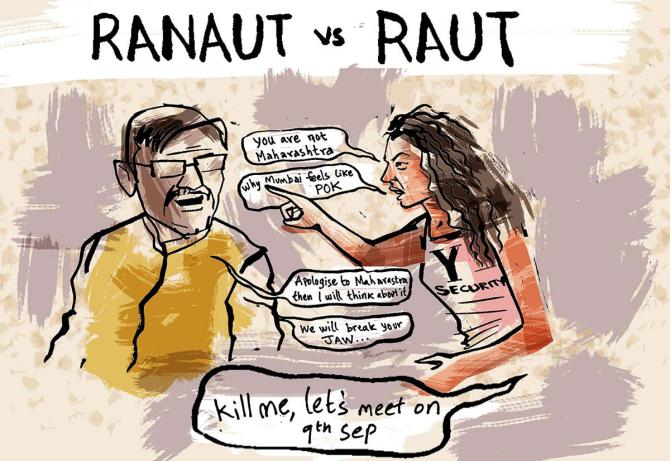 Feature Presentation: Aslam Hunani/Rediff.com