So, five Rafales will touch down in India next Monday.
The French fighters will give the Indian Air Force a distinct edge as it prepares for the possibility of a short war with China.
"If we had sent a few airplanes (into Tibet), we could have wiped the Chinese out. And everything could have been different in the 1962 War," Wing Commander Jag Mohan ('Jaggi') Nath -- the first of six Indian military officers to have been twice decorated with the Mahavir Chakra, India's second highest war time military decoration -- had told Claude Arpi in a memorable Rediff.com interview last year.
The Modi government's decision to buy the Rafales has been controversial with much unsubstantiated muck flying around since the deal was struck -- it may have even cost the Congress several Lok Sabha seats in the 2019 general election since its then party president made the Rafale a one-tone campaign issue even when it was clearly out of sync with the post-Balakot mood of the nation.
The Rafales's presence on Indian terra firma comes just weeks after Prime Minister Modi made Atmanirbhar Bharat -- a self-reliant India -- his mantra for the wracked-by-COVID-19, confronted-by-China, depressed-by-a- sinking-economy India of 2020.
The Made in France Rafales are clearly not the best advertisement for Modi's Atmanirbhar agenda, but as long as none of its parts have Made in China embossed on them, we guess it is chaal se as the Amadavadis would say.
Dominic Xavier offers his take on the Rafales's arrival.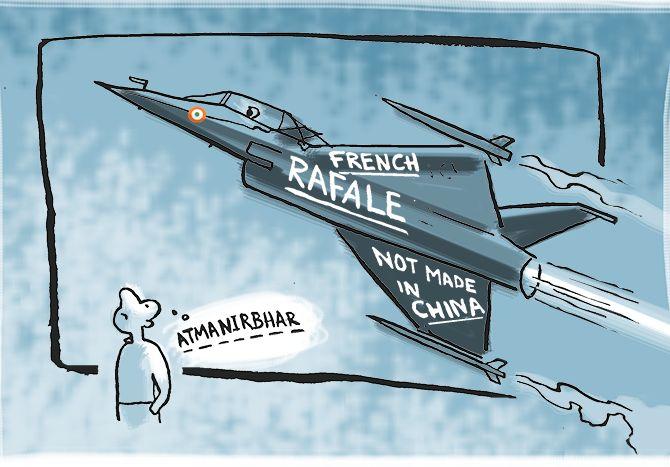 Feature Production: Aslam Hunani/Rediff.com