On Sunday, September 13, night, student activist Umar Khalid was arrested under the draconian Unlawful Activities (Prevention) Act.
The Delhi police allege Khalid had a role in the Delhi riots in February.
last week, the Delhi police had accused Khalid, Communist Party of India-Marxist General Secretary Sitaram Yechury, Swaraj Abhiyan leader Yogendra Yadav, economist Professor Jayati Ghosh, Delhi University Professor Apoorvanand, and documentary film-maker Rahul Roy of asking anti-Citizenship (Amendment) Act protesters to go to 'any extreme'.
Nothing Umar Khalid said in his speeches before the Delhi riots was an incitement to violence, point out his many supporters on social media. He has always advocated conduct that adheres to the Constitution, a book the prime minister also swears by.
Dominic Xavier asks if the young intellectual's arrest is part of a fresh campaign to crush all dissent against the Modi government.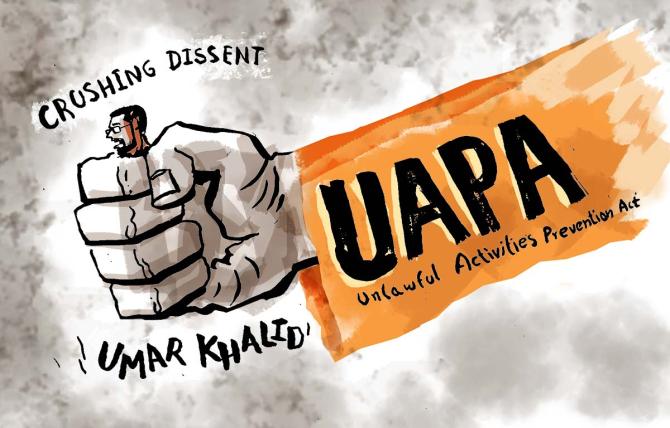 Feature Presentation: Aslam Hunani/Rediff.com