The focus on non-issues like 'love jihad' has dragged radicals like Vijaykant Chauhan from the fringes to the mainstream in Uttar Pradesh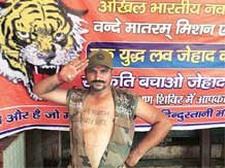 "Now, here's a Hindu girl waiting for her Muslim boyfriend," said Vijaykant Chauhan, as his associate shepherded a worried 14-year-old into the large cow shelter on Vande Mataram Chowk in this Uttar Pradesh town. "She's been standing at the same spot on the road for half an hour; why else would she be here?"
At 36, Chauhan is thickly muscled, with 'Vande Mataram' tattooed on his chest, back, biceps and hands. He sports an upturned moustache and wears olive green army fatigues offset by a pair of blue and yellow Crocs, radiating the contentment that comes with a mid-career renaissance.
"I've been fighting 'love jihad' for decades," he said, pulling out a ledger stuffed with news clippings detailing his exploits, "Back then, everyone called me a lunatic, but now they listen to me."
Chauhan is not formally a member of the Bharatiya Janata Party (BJP), but claims he works closely with it. "On Yogi Adityanath's birthday, I donated blood and organised 51 bottles of blood in his honour," he said, referring to the BJP's five-time MP from Gorakhpur, "Yogi Aditynath is an inspiration."
Love jihad -- or the apparent practice of young Muslim men allegedly seducing Hindu girls to convert to Islam -- once existed on the outer-fringe of the political spectrum of revivalist Hindutva politics. Now, it may have become the primary plank of the BJP's bid to win back 11 Vidhan Sabha seats in Uttar Pradesh (UP) in a by-election scheduled for this Saturday.
Chauhan, for his part, has tried everything to prevent Hindus and Muslims from befriending each other - processions, street brawls, night patrols and once filed false papers in a court of law - to prevent a Hindu woman from marrying her Muslim fiance. "I claimed to be her husband," he said, "But the girl filed an affidavit claiming she wanted to stay with the Muslim. She was brainwashed."
Now, Chauhan runs a cow shelter and occasionally rounds up young Hindu girls, like the one sitting before him, and sends them home with a stern warning not to consort with Muslims.
This by-poll will not change the balance of power in the UP Assembly, but the outcomes are important for the three big political parties vying to form the government after the next state polls in 2017.
For the BJP, a strong performance on Saturday will cement its position as a durable force after winning a record 71 seats from UP in the general elections this summer.

The party has nominated firebrand Hindutva leader, holy man and Gorkahpur riot-accused Yogi Adityanath to consolidate the Hindu vote bank, by aligning UP's diverse castes behind a unified Hindu identity.
Adityanath has obliged by making a series of inflammatory, anti-Muslim public statements in rallies across UP, from Noida in the west to Varanasi in the east, that have earned him a showcause notice from the Election Commission of India.
For the Samajwadi Party (SP), the election will reveal if the ruling party can regain control over its Yadav-Muslim base, fractured in the 2013 Muzaffarnagar riots.
As the party in power, the SP is expected to leverage its control over the administration and police to ensure a strong showing. Failure, SP members admit, could shake the faith of party workers and drive them to the BJP.
"The love jihad issue is making it difficult for the SP and the BSP to create Muslim votes with either the Yadavs (for the SP) or the Dalits [for the Bahujan Samaj Party (BSP)]," said a local BJP leader, speaking off the record, "It is uniting Hindus to protect their daughters."
The SP accused of fomenting the tension in the months preceding the Muzaffarnagar riots, has responded by nominating a Muslim candidate in only one of the 11 seats; the remaining ones are all Hindu.
Yet, evidence on the ground suggests it will be years before Uttar Pradesh's ruptured social fabric repairs itself.
Last week, the Muzaffarnagar administration organised a 'religious harmony' function to commemorate one year of the Muzaffarnagar riots. "Schoolchildren were supposed to form a human chain to illustrate communal harmony," said an organiser, "But local Bajrang Dal and Shiv Sena activists said they would not let Hindu girls hold hands with Muslim boys."
The function, the organiser said, was to end with a poetry reading. "But we made the mistake of calling it a Mushaira," said the organiser, "which prompted the Hindutva groups to insist we call it a Kavi Sammelan. So, we just cancelled everything."
By sitting out this election, Mayawati's BSP appears to have bought time to assess how to negotiate UP's changed realities. "Behenji told us the SP government could fall at any point, so we should focus on the state-level polls," said a BSP worker. In the interim, the worker said, the party was focusing on building support among the Muslims and Dalits.
To this end, BSP workers seem to have reached out to Muslims too afraid to return to their homes after they were displaced in the Muzaffarnagar riots of 2013.
In Panjit, in the Shamli district, Mohammed Akhlakh, the village headman and BSP worker, has worked with his community to earmark about 20 acres of private land to be sold for between Rs 100 and Rs 200 per square foot for settling riot-affected Muslims.
"Riot affected families can buy the land for as little as Rs 5,000 up front and then pay the rest in instalments," said Akhlakh, who insisted that this was a community initiative in his capacity as a community leader rather than a political personage. This correspondent met at least two other BSP workers who were connecting displaced Muslims with riot-relief organisations.
"After Muzaffarnagar, we lost all faith in the Samajwadi Party," said Jamil Ahmed, a former pradhan from Dhabeli, where homes are being built for displaced Muslims, "SP leaders also played their part in the riots. So, we will see what to do."
In the longer term, it is unclear how the resettlement of Muslims from mixed-neighbourhoods to homogenous settlements will affect the political dynamics of western UP.
"There are two factors behind Muslim migration. The push factor of communalism, and the pull factor of better wages in the towns," said academic and farmer activist Professor Sudhir Panwar from Lucknow University, "After the riots, Muslims have moved from Hindu majority villages to the fringes of towns like Kairana that have a significant Muslim presence."
The recent riots and the love jihad" narrative, Panwar said, had created a situation where both communities felt like victims of each other, "This will mean that both communities shall move away from political movements and towards religious figures."
Vijaykant Chauhan, in the meantime, is pleased with his return to relevance.

"We have four pillars of strength," he said, "Our cows, our temple, our ancient culture and our girls."