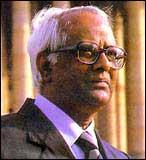 National Security Adviser J N Dixit passed away on Monday morning. He had suffered a massive heart attack and was brought dead to the All India Institute of Medical Sciences in Delhi around 6.30 am.
He is survived by wife and two daughters. The funeral will take place on Wednesday, sources said. The body has been kept at his residence 11, Safdarjung Lane, for people to pay their last respects.
Jyotindra Nath Dixit (68) was a career diplomat who had served as foreign secretary. He had the unique distinction of having served as high commissioner or ambassador in the capitals of all South Asian neighbours, except the Maldives, during a diplomatic career spanning nearly four decades. He was an acknowledged expert on Indo-Pak ties.
He was India's first envoy to Bangladesh after its creation in 1971.
He was the high commissioner in Colombo in 1987 when India signed an accord with the Liberation Tigers of Tamil Eelam and sent the Indian Peace Keeping Force to the northern areas of the island nation at the height of the ethnic crisis.
Nicknamed 'viceroy' during his tenure in Colombo, he had tremendous influence with the government there during late Junius Richard Jayawardene and later Premadasa's time.
He was the first Indian high commissioner to Afghanistan and had also served as high commissioner in Islamabad, considered an important posting and a stepping stone to becoming the foreign secretary.
He was a prolific author and columnist on international and regional affairs.
Since 2003, he had been closely associated with the Congress party's foreign affairs cell and played an active role in the drafting of the party's pre-poll paper on foreign policy, defence and national security.
When the Congress-led United Progressive Alliance government came to power, he was appointed the NSA.
More about J N Dixit