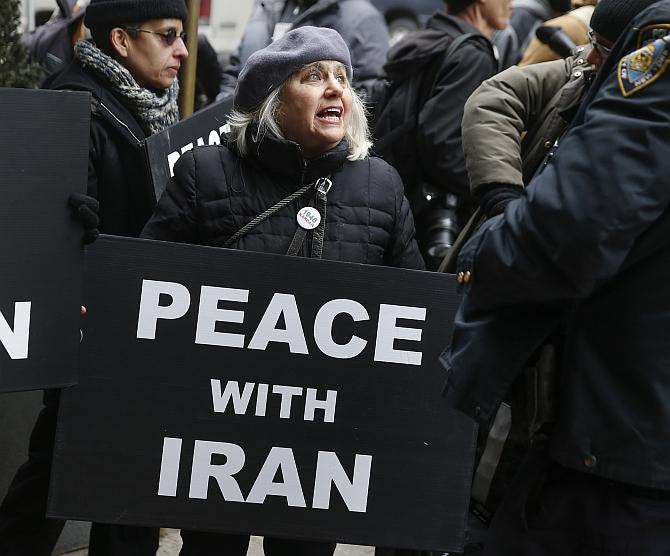 A deal on Iran's nuclear programme has finally been reached, marking an end to 17 days of intense negotiations and decade-long standoff that threatened to stoke a new crisis in the Middle East, diplomats said.
Ministers from the seven countries involved in the negotiations-Iran -- the United States, United Kingdom, Russia, China, France and Germany -- are expected to gather for a final photo mid-morning and issue a short statement before holding a press conference at the Austrian centre, reported The Guardian.
However, an official announcement on the historic deal will be made later in the day.
The deal involves Iran accepting curbs on its nuclear programme in return for sanctions relief, but many of the critical, politically-charged details are still awaited.
A diplomat quoted by the Associated Press said the deal included a compromise over the inspection of sites within Iran. It would allow UN inspectors to monitor military sites, but Iran could challenge requests for access, the diplomat said.
Media reports claimed that if Iran fails to honour the deal, sanctions will be re-imposed within a period of 65 days.
Also, a United Nations arms embargo and UN missile sanctions would remain in place for five and eight years respectively.
The National Iranian American Council welcomed the deal saying, "Today, diplomacy has triumphed and war is off the table."
The agreement and its annexes run more than 80 pages, Iranian officials said, outlining in painstaking detail how much nuclear fuel Iran can keep in the country for the next 15 years; what kind of research and development it can perform on centrifuges and other nuclear equipment; and the redesign of both a nuclear reactor and a deep-underground enrichment site that Israeli and American officials feared could be invulnerable to bombing.
However, the full agreement, known as the joint comprehensive plan of action, has faced backlash from Tel Aviv, with an Israeli Cabinet minister dubbing the newly-struck agreement as a 'licence to kill'.