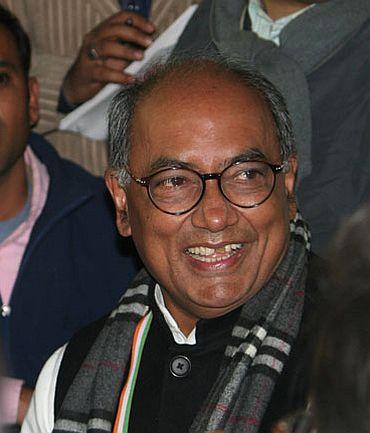 Targeting Prime Minister Narendra Modi over the issue of inflation, Congress general secretary Digvijaya Singh on Saturday said that the PM should understand that criticising the government and running it were altogether different things.
"Running a government is one thing and criticising it from outside is another. It would be better if Modi understands this early," Singh, who was in Khajuraho to attend a marriage function, said.
Over the remarks made by Union Home Minister Rajnath Singh earlier on Saturday that his government's performance cannot be evaluated in just 10-15 days, Singh said, "You need 15 years? ...All these are simply excuses!"
"Acche din aa gaye hai (good days are here), people must understand," Singh added in a sarcastic manner.
On the issue of Madhya Pradesh Professional Board Examination scam, he alleged, "It was a well-planned conspiracy and Chief Minister (Shivraj Singh Chouhan) had tried his best to hide it."
Claiming that it was because of court pressure that the former Madhya Pradesh minister Laxmikant Sharma was arrested, the Congress leader demanded that the call detail records of Sharma be checked to find out the truth.