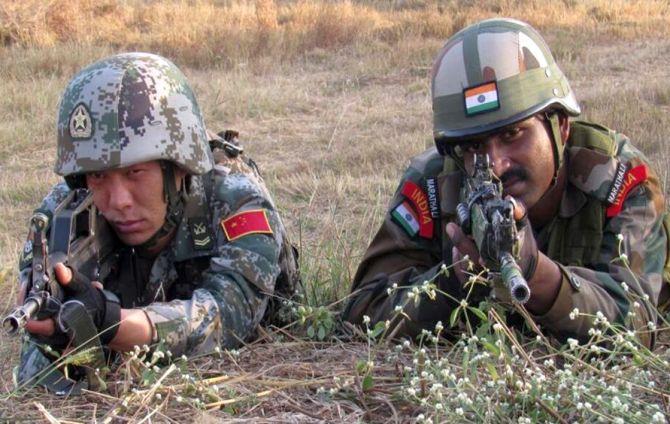 India on Thursday made a renewed pitch for a 'peaceful resolution' of the Dokalam standoff with China through diplomatic channels, insisting that differences should not become disputes.
The assertion by New Delhi came on a day China said diplomatic channels remained 'unimpeded' to discuss the issue provided India withdraws its troops from Dokalam.
Ministry of External Affairs spokesperson Gopal Baglay told reporters that India has been in 'close contact' with the Bhutan government on the unfolding developments, noting that diplomatic channels to resolve the issue with China have not broken off.
When referred to China's demand that status quo be restored in Dokalam, he said India has also been asking for it.
"There is a certain approach to resolve tri-junction issues and that it should not be altered unilaterally."
He said Bhutan's demand to China asking it withdraw its troops from Dokalam has also been India's stance. Baglay said India is for resolving border issues with China peacefully and referred to the understanding between Prime Minister Narendra Modi and Chinese President Xi Jinping during a bilateral meeting in Astana last month that differences between the two countries should not be allowed to become disputes.
The two leaders had met in Astana on the sidelines of the summit of Shanghai Organisation Cooperation.
"Basically India's approach has been to find peaceful resolution of all matters concerning the border with China," he said, adding "Diplomatic channels are available and not broken off."
Asked about China ratcheting up rhetoric against India, Baglay quoted 15th-century saint Kabir, indicating it was not necessary to take note of everything that has been coming from the Chinese side.
"It is obvious that every responsible power, every responsible person and player in the world, of course, prefers peaceful resolution of matters that are in hand," Baglay said.
Earlier in the day, China said diplomatic channels with India remained 'unimpeded' to discuss the Dokalam standoff but at the same time reiterated that the withdrawal of the Indian troops from the area is a 'precondition' for any meaningful dialogue.
Asked about China's comment, Baglay said diplomatic channels remaining available implies that it is a process.
The MEA spokesperson also said at least one flag meeting between the two sides had taken place after the face-off, which began on June 16. "I am aware of flag meeting taking place after June 16. Now whether there was one or more, I am not aware of."
On whether India has briefed other countries on the issue, Baglay said, "It is not appropriate for me to comment on diplomatic discussions and interactions that take place as a regular matter and also on sensitive issues of this nature."
"I would not like to go into the details of how and what and with whom such conversations have taken place, if they have taken place," he said.
To a question on whether India can explore going to the United Nations if diplomacy fails to resolve the standoff, Baglay said he cannot reply to hypothetical questions but added "In a sense you have answered your own question."
Asked about comments by West Bengal Chief Minister Mamata Banerjee and her Jammu and Kashmir counterpart Mehbooba Mufti that China could be behind troubles in their states, Baglay evaded a reply and only said cross-border terrorism was the root of the problem in J&K.
Baglay also confirmed that National Security Advisor Ajit Doval will travel to Beijing to attend a meeting of the BRICS multilateral grouping on July 27 and 28.
Representative image.