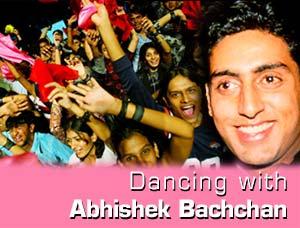 All right, all right, you caught me! I love watching award shows, but don't like to admit it. I feign disinterest at seeing who is wearing what, who's come with whom and who wins which award, but secretly hope I have nothing else to do that night so I can watch the show.
One Oscar night, I made my brother dress up so that both of us could watch the awards at home and pretend we were there. I wore my old prom dress and he, after much cajoling, wore his band concert suit. I did fall asleep in front of the television before the ceremony ended, but that's not the point.
Yet, when I got the opportunity to go to MTV's first-ever awards show in India, the Immies, I was not as excited as I would have been if I were back home in the US. I don't know half the people I 'should' know in India's entertainment industry; I am forever popping my head over my cubicle to ask the movie reporter next door who so-and-so is and what is it they have done.
Nonetheless, I slipped on my high heels and put on another layer of lip-gloss before reaching the venue at Mumbai's Goregaon Sports Club. I probably have the dubious honour of being one of the few people in the 'sponsor section' who arrived at the event by local train and rickshaw.
| | |
| --- | --- |
| | More exciting diaries! |
| | |
The event promoter promised the Immies would start at the scheduled time and begged the media to please arrive on time, if not early. Sadly, I believed him and spent the next two hours waiting for the show to begin. My only consolation is that, since the seats were first-come, first-served, I got an excellent seat by arriving early.

The show was styled on the MTV awards back home, complete with elaborate stage, teleprompter and mosh pit (an area in front of the stage filled with young 20-somethings ready to scream and cheer at anything in order to provide good eye-candy for the MTV cameras.).

It was odd being in an outdoor venue, which is where most large stage shows are held at in India. Luckily, I found another journalist who I had met at the previous day's press conference and she knew everything there was to know about Bollywood. She kept whispering to me who was what, what movie this was in reference to, etc, which was incredibly helpful.

She also managed to get me backstage in the media room where I met Shah Rukh Khan. He shook my hand and patted me on my head after I was introduced as an American journalist. It was an odd feeling to see the man who I had just watched on screen last week in flesh and blood standing within touching distance. He was dressed very nicely in a black kurta and his hair bounced just as jauntily as it did when he was singing Pretty woman in Kal Ho Na Ho. His wife, Gauri, was dressed trendily in an embroidered green tube top and cute gold high heels. She kept staring at me for some reason.

Shah Rukh was enough to make most girls go weak at the knees, but my knees stayed rock steady until Lata Mangeshkar walked into the room. She was much shorter than me, but her achievements and success stood tall in my mind. I sat down and watched the dignified lady, clad in a white, embroidered sari, gracefully answer questions that the media posed to her. But I don't remember what she said; I think I was in shock.

I didn't get to meet my favourite, Hrithik Roshan. If he had been there, I would have definitely gone weak-kneed and forced someone to lend me their camera. (Hrithik, if you are reading this, I am in India until January 12. Please call.)

Since Hrithik wasn't there, I talked to Karan Johar instead and asked him about the recent flurry of articles from cheesed-off New Yorkers pointing out the inconsistencies in Kal Ho Naa Ho. Naina Catherine Kapur, as Preity Zinta is known in the film, lives in Queens, but is shown jogging in Manhattan and crying in Brooklyn. I think it was a sore point with him, because he promptly lambasted me. "I live in Bandra but if I wanted to jog at the race track [in Mahalaxmi, which is a good half hour away], I could," he said. "Did I show her leaving the house? No, I didn't. There are millions of ways of getting around New York," he said. "Please print that." To his credit, he did apologise for taking it out on me even though, somewhere along the line, he seemed to have forgotten that he had written the film while Nikhil Advani had directed it.

After the show, I headed to the after party at the J W Marriott hotel. At this point, I was unabashedly excited. Not necessarily because I had always read about these parties, or because I could meet so-and-so, but because it had been too long since I had the chance to dance.

And dance I did! Next to Abhishek Bachchan, in fact, right against the stage where Panjabi MC and Outlandish performed. Six feet away, Salman Khan, who was wearing a white suit, stood out in the dark club. One of the Viva girls stepped on my foot, Yana Gupta swung her hair in my face, I offered VJ Ramona a peanut M&M, congratulated Clark Anderson (of Safari Duo) on his excellent piano playing and turned down Bombay Viking's Neeraj Shridar who was dancing on the stage in front of me and trying to imitate Abhishek who had some girl hugging his leg.

Okay, so maybe I do get a little star struck once in a while!

Image: Uttam Ghosh

Click here for more diaries!