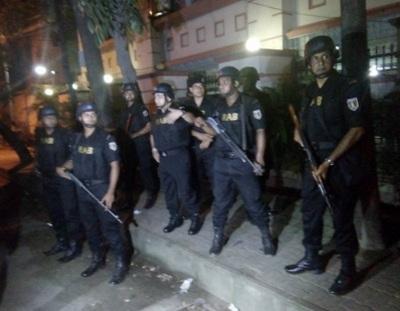 Bangladesh police on Friday raided a militant hideout here and killed a top Islamist extremist who helped plan the the Dhaka cafe siege and was the deputy of attack 'mastermind' Tamim Ahmed Chowdhury.
The terrorist was killed during a raid on a house in Dhaka's Rupnagar area and was identified by police as top Neo-Jama'atul Mujahideen Bangladesh leader Chowdhury's 'second-in-command'.
Detective Branch Additional Deputy Commissioner Sanwar Hossain identified the deceased as 'Murad' or 'Major Murad' as referred to by the members of his outfit.
'We raided the house on information that he had rented it,' Hossain was quoted as saying by BD News.
Joint Commissioner Abdul Baten said police raided the house around 9.30 pm local time.
Three policemen, including the officer in charge of the nearby police station, were also wounded in the gunfight with the terrorist.
Syed Shaheed Alam, officer in-charge of Rupnagar Police Station, Inspector Shaheen Fakir and Sub-Inspector Md Momenur Rahman were also injured, Baten said.
They were being treated at Dhaka Medical College Hospital. Police's counter-terrorism unit chief Monirul Islam said Murad was the 'military trainer' of JMB.
"He was known as Major Murad in the organisation," Hossain said.
He said police found out about Murad in the investigations after the death of Tamim, the suspected mastermind of Gulshan cafe terror attack who was killed in a raid on a house in Narayanganj on August 27.
He said police raided the house in Rupnagar also on Thursday but found it locked.
"We asked the landlord to inform us when the tenant returns. The landlord locked the house from outside and called police," Hossain said.
"He (Murad) stabbed police officers when they entered the house. He died after being hit by a bullet during a scuffle that ensued when he tried to flee," the police official said.
Police had named Tamim, a Canadian-Bangladeshi who led the 'Neo-JMB', as the one who orchestrated the July 1 attack on the upscale Holey Artisan Bakery and O'Kitchen restaurant in Dhaka's diplomatic zone in which 22 people, including an Indian girl, were killed.
The Islamic State had claimed responsibility for the cafe attack. But police believe that Neo-Jamaat-ul-Mujahideen Bangladesh, which is close to the IS, was involved in organising the attack.