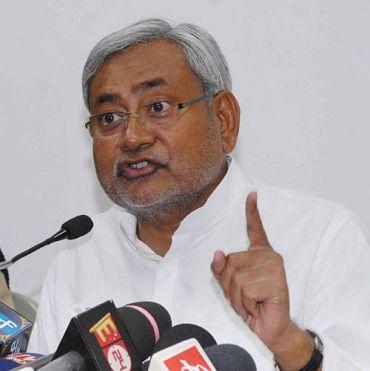 According a special category status to Bihar would lead to development and employment following which the dignity of the people would be restored elsewehere in the country, Bihar Chief Minister Nitish Kumar said on Sunday.
"I am striving for special status demand so that the people of Bihar cannot be insulted by anybody as has been the case in Maharashtra and some other states," he told a public meeting in Madhubani district.
"I am fighting to restore the dignity of the people by bringing fruits of development at their doorsteps so that they will not have to go outside in search of employment and suffer insult and abuse from any one in future," Kumar said.
The chief minister said the grant of special category status was imperative for development so as to make the people proud of themselves and their state.
Stating that the state lagged behind in terms of development deficit, per capita income and industrial development, Kumar said that the grant of special status will bring private investment in the industrial sector and make additional funds available in the exchequer as the state will have to contribute only ten per cent in the implementation of the centrally-sponsored schemes.
This fund could be utilised by the state government for launching fresh development schemes for the benefit of the people, the chief minister said.
Image: Bihar CM Nitish Kumar