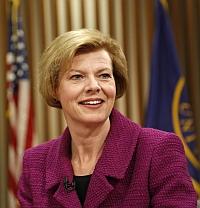 Wisconsin Democratic Representative Tammy Baldwin has become the first openly gay United States senator, defeating former Governor Tommy Thompson in the most expensive senate race in state history.
"I am honored and humbled and grateful, and I am ready to get to work -- ready to stand with Barack Obama, and ready to fight for Wisconsin's middle class," Baldwin said to raucous cheers at her victory party.
Even during his four-way GOP primary race, Thompson was long considered the frontrunner.
He was a popular governor in the state who later served as President George W Bush's health and human services secretary and enjoyed high name-recognition in the state.
According to the Huffington Post, although Baldwin made history on Tuesday night when she became the first openly gay senator-elect in US history, her sexual orientation was largely a non-issue in the race.
In September, Thompson's political director tweeted a message deriding Baldwin's 'heartland values', accompanied by a video of Baldwin dancing at an LGBT pride parade.
Thompson later distanced himself from his aide''s tweet.
"Now, I am well aware that I will have the honor to be Wisconsin's first woman US senator. And I am well aware I will be the first openly gay member of the US senate," she said.
"But I didn't run to make history," she continued, adding, "I ran to make a difference -- a difference in the lives of families struggling to find work and pay the bills, a difference in the lives of students worried about debt and seniors worried about their retirement security, a difference in the lives of veterans who fought for us and need someone fighting for them and their families when they return home from war, a difference in the lives of entrepreneurs trying to build a business and working people trying to build some economic security."
Baldwin will be succeeded in her house seat by state Assemblyman Mark Pocan, a Democrat who is also openly gay.