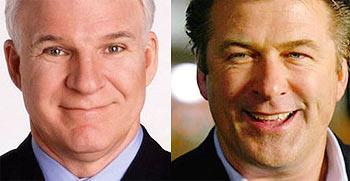 Steve Martin and Alec Baldwin will co-host the 82nd Annual Academy Awards.
'I am happy to co-host the Oscars with my enemy Alec Baldwin,' Us magazine quoted Martin, 64, as saying.
Martin previously hosted the 73rd and 75th Academy Awards.
Baldwin, 51, said: 'I don't play the banjo, but I'm thrilled to be hosting the Oscars -- it's the opportunity of a lifetime.'
Both have hosted Saturday Night Live.
Show producers Adam Shankman and Bill Mechanic said: 'We think the team of Steve and Alec are the perfect pair of hosts for the Oscars. Steve will bring the experience of having hosted the show in the past and Alec will be a completely fresh personality for this event.'
Image: Steve Martin and Alec Baldwin