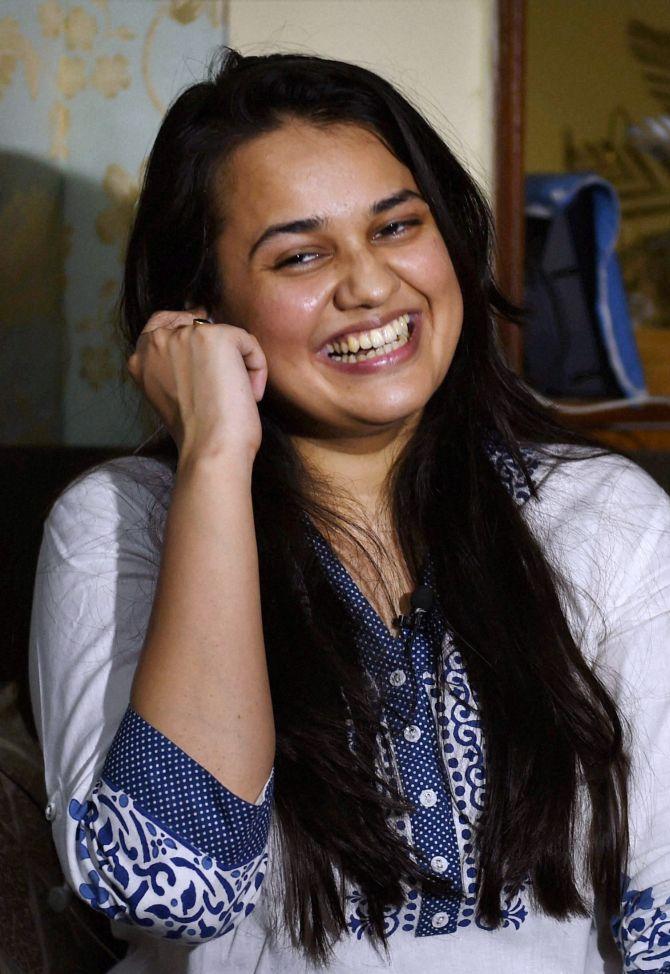 Delhi girl Tina Dabi has topped the 2015 civil services examination, while railway officer Athar Aamir Ul Shafi Khan from Jammu and Kashmir has got second rank in the results which were declared on Tuesday.
Delhi-based Jasmeet Singh Sandhu, an Indian Revenue Service officer, has secured third position in the test.
Topping the list in her first attempt, a beaming 22-year- old Tina, who graduated from Lady Shri Ram College in New Delhi, said, she wants to work for women empowerment in Haryana.
"I always wanted to work in a challenging state. That is why I chose Haryana. We all know the sex ratio of girl and boy child is quiet less and that is why I would like to contribute my efforts for the empowerment of women there," she told PTI.
Tina was born in Bhopal and studied from CarmelConventSchool there.
23-year-old Athar, who hails from Anantnag in South Kashmir, got through the test in his second attempt. In his first attempt in 2014, he had got Indian Railway Traffic Service and is currently undergoing training in Indian Railways Institute of Transport Management, Lucknow.
It is a dream come true," an elated Athar said, adding, "I will not leave any stone unturned to work for the betterment of people".
"I have opted for Jammu and Kashmir cadre also. I will be happy in case I get chance to work there. I think there is a lot of scope to fulfil aspirations of people of my state," he said.
Jasmeet, whose father works in Indian Council of Agricultural Research in New Delhi, thanked his parents and teachers for his success.
"It is all because of my family, friends and Mukul Pathak sir (who runs a coaching class) that I could secure third rank in the exam," he said.
Jasmeet was also selected in 2014 civil services exam and had got Indian Revenue Service (Customs and Central Excise). He is undergoing training at National Academy of Customs, Excise and Narcotics in Faridabad. This was his fourth attempt.
A total of 1,078 candidates, including 499 in General category, 314 belonging to Other Backward Class, 176 from Scheduled Caste and 89 from Scheduled Tribe, have been recommended for appointment to various central government services, the Union Public Service Commission said.
There are 172 other candidates in the waiting list.
The civil services examination is conducted by the UPSC annually in three stages -- preliminary,mains and interview -- to select candidates for the elite Indian Administrative Service, Indian Foreign Service and Indian Police Service, among others.
IMAGE: A jubilant Tina Dabi pictured here after she topped the Civil Services exam. Photograph: PTI