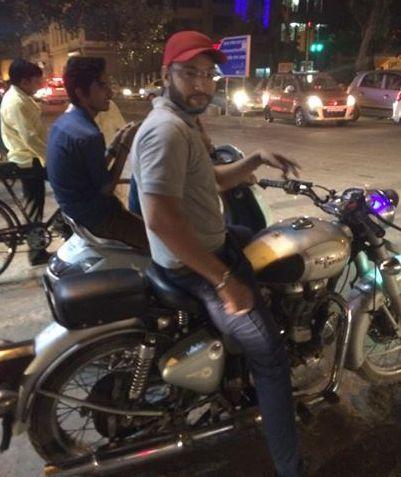 Annoyed by the lewd comments being passed at her, a Delhi woman decided to take a stand against it by taking a photograph of the offender, in order to bring the incident and the perpetrator in the public eye.
Thanks to her bravery, the perpetrator has now been arrested.
The incident came to light on Sunday when Jasleen Kaur, a young student, was travelling in West Delhi's Tilak Nagar around 8 pm.
Jasleen said she was trying to cross the road when she came in front of the bike. "When pointed at the red signal and said he should stop, he started making obscene remarks," Jasleen said.
When Jasleen confronted him and told him that she would file a complaint, the man posed for the picture saying, "Jo kar sakti hai kar le. Complaint karke dikha, fir dekhiyo kya karta hun main (Do whatever you want to. Just wait and watch what I would do to you if you complain against me)."
What perturbed Jasleen even more, she went on to write in a Facebook post, was that there were around 20 onlookers who refused to intervene.
Her post on Facebook since then has received 98 likes and counting.
Kaur later filed a police complaint, on which the cops acted and has arrested the pervert.
The Deputy Commissioner of Police (West) Pushpendra Kumar also announced that Jasleen would be awarded Rs 5,000 for her bravery.
The Delhi Commission for Women Chairperson Swati Maliwal on Monday congratulated the girl for standing up. "I would like to congratulate the girl for standing up and confronting," Maliwal said, adding, "We support her and will be meeting her today."
Go Jasleen, we are so proud of you!
Image: The image that Jasleen posted of the man passing lewd comments and threatening her after she said she would file a complaint. Photograph: Jasleen Kaur/Facebook