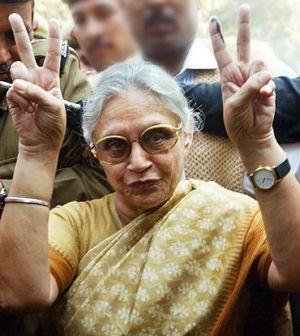 In a sharp attack on Bharatiya Janata Party, Chief Minister Sheila Dikshit on Tuesday accused it of "misleading" people by "trumpeting" Narendra Modi's development model and said economic figures of last five years clearly showed that Delhi was much ahead of Gujarat.
The chief minister, eyeing an unprecedented fourth successive victory in December 4 assembly polls, cited government statistics to negate BJP's claim of Gujarat's growth rate and said the national capital was "way ahead" compared to it in terms of economic vibrancy and overall development.
"I am criticising BJP because it trumpets about Gujarat's achievement again and again. They are misleading people. That's why we are saying do not mislead," Dikshit said at a press conference at her 3 Motilal Nehru residence.
Highlighting Delhi's economic growth, she said the average growth rate in the capital was 10.33 per cent in the last five years compared to Gujarat's 9.51 per cent and national average of 8.03 per cent.
"Delhi's gross state domestic product is much higher than Madhya Pradesh, Chhattisgarh, Bihar, Punjab and Jharkhand. The contribution of Delhi to total GDP at the national level is 3.8 per cent though it has only 1.4 per cent share in total population of the country," Dikshit said.
As per official figure GDP of Delhi at current prices has increased to Rs 3.65 lakh crore in 2012-13 from Rs 3.10 lakh crore in 2011-12.
The chief minister said the per capita income in the city which is over Rs 2 lakh against national average of around Rs 68,000 also reflected better economic environment in Delhi.
"Do not underestimate our achievements. Delhi is much much ahead than Gujarat. Delhi is the most attractive place for job seekers," said the chief minister, who was flanked by her cabinet colleagues Harun Yusuf, Raj Kumar Chouhan and Arvinder Singh.
Dikshit's comments came a day after Delhi BJP chief Vijay Goel accused her of "belittling" growth and development in Gujarat and described her 15-year tenure as a "disaster" for Delhi.
"There has been destruction in Delhi, not development," Goel had said.