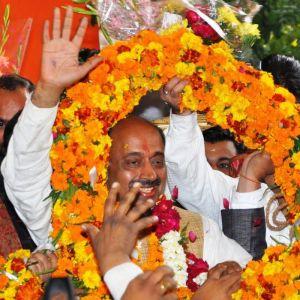 Delhi Bharatiya Janata Party chief Vijay Goels's assertion that he was a popular choice for chief ministerial post has triggered rumblings in the party, threatening to derail its campaign to capture power in the capital after 15 years.
A number of senior Delhi leaders of the party conveyed to central leaders their "deep anguish" over the "tone and tenor" of Goel's comments projecting himself as BJP's popular face for the top post amid growing speculation that former minister Harsh Vardhan was a front runner.
Sources said the central leadership of the party as well as most of the Delhi leaders are "annoyed" with Goel's comments when the party has been maintaining that its Parliamentary Board will take a decision on the issue.
"The party leadership is concerned over the whole atmosphere and will take necessary steps," former Delhi BJP president Vijender Gupta told PTI.
A number of senior Delhi leaders are understood to have conveyed to Delhi election in-charge Nitin Gadkari that Goel has violated party discipline by openly projecting himself as chief ministerial candidate and indicating that he will not be happy if someone else was chosen for the post.
Goel, who was appointed Delhi BJP president in February, is believed to have conveyed his reservation to senior leaders about making Harsh Vardhan the chief ministerial candidate. "Opinion polls projected me against Sheila Dikshit. Look at the results of the opinion polls. My party is ahead and so am I," Goel had said at a press conference on Wednesday virtually rejecting reports that Vardhan was a front runner.
BJP Parliamentary Board is likely to meet on October 20 where the issue may be taken up. When asked about the issue, Gadkari said it was the prerogative of the party president and the Parliamentary Board to take a call on the CM candidate.
Image: Vijay Goel
Photograph Courtesy: Vijay Goel's Facebook page