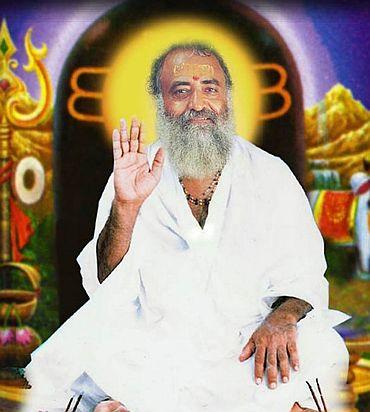 Spiritual leader Asaram Bapu was at the centre of a controversy sparking outrage after he suggested that the Delhi gang-rape victim was equally responsible for the crime and said the girl could have called her assailants brothers and begged them to stop.
Asaram's recent remarks on the gang-rape of the 23-year-old girl came in for condemnation across the political spectrum and from women's bodies on Monday with the Bharatiya Janata Party saying it was "regrettable, deeply disturbing and painful".

A politician's rule book on how not to get raped
In another controversial comment while addressing his followers in Faridabad on Monday, he claimed the incident has unleashed an "anti-men" campaign and cautioned that any new law on crime against women may be misused by vested interests.
Addressing his followers recently, Asaram said that when the girl encountered six drunk men, "She should have taken God's name and could have held the hand of one of the men and said I consider you as my brother and should have said to the other two 'Brother I am helpless, you are my brother, my religious brother. She should have taken God's name and held their hands and feet...then the misconduct wouldn't have happened."
He also went on to say, "Galti ek taraf se nahi hoti hai (mistake is not committed from one side)."
The girl was gang-raped on the night of December 16 in a moving bus and died nearly a fortnight later at a Singapore hospital.
"The accused were drunk. If the girl had chanted hymns to Goddess Saraswati and to Guru Diksha then she wouldn't have entered the bus...," he added.
BJP spokesperson Ravishankar Prasad said Asaram is a religious guru and that the country looks up to him. "His statement is regrettable, deeply disturbing and painful," he said.
"For him to make the statement in relation to a crime which has shocked the conscience of the country is not only unfortunate but deeply regrettable," he added.
An aide to Asaram sought to downplay the controversy over the remarks. Neelam Dubey said the remarks were made at a religious discourse in Delhi in the context of how one should invoke God's name to avoid incidents like crimes against women. Some reports said the event was held in Rajasthan.
Dubey said Asaram was trying to drive home the point that incidents like the gang-rape of the girl could have been avoided by reciting mantras, by reciting names of Gods. "If she(victim) would have taken God's name or recited a mantra God inside her might have suggested her to how to avoid such crimes," she said, seeking to explain Asaram's remarks.

Nearly 100 activists of Bharatiya Samajik Sena, an organisation claiming to fight social evils, protested in Ahmedabad against Asaram Bapu.

Condemning Asaram's comments, Bharatiya Samajik Sena president Sanjay Gadhvi told PTI that "we demand that Asaram apologise to the women of the country and urge him to take back his words".

Holding banners and placards reading, 'Shame on Asaram, Shame on Asaram', protestors burnt his effigies in Jashodanagar area of the city and said they would continue to organise protests across the city and the state if he does not apologise for his comments.
Gadhvi also said they plan to throw black ink on the spiritual guru's posters and also protest at the venue of his programmes.
Another member of the organisation, Harshad Patel, said, "When the entire country is with the victim, why is Asaram not speaking for her?"


Also Read: Let's talk about sex, baby