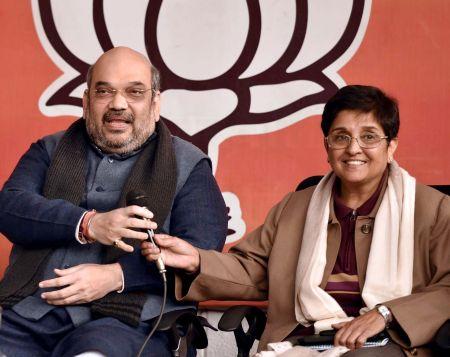 A day after joining the Bharatiya Janata Party, Kiran Bedi on Friday said she was ready to contest against Arvind Kejriwal, Aam Aadmi Party chief and her former Team Anna colleague, in the Delhi assembly polls, if her party wants.
She rebutted AAP's criticism over changing her stand on not joining politics, saying she was free to make her own choices and her "aversion" was gone due to Modi's leadership.
"The constituency selection is always a decision of party. I will go by their decision. If they want me to fight against him, I will do so. Because they know better than I do. They haven't brought me to lose, they have brought me to win," the former IPS officer said when asked whether she is likely to be pitted against Kejriwal in the upcoming polls.
The AAP had on Thursday termed her joining BJP as "shocking".
"It is sad and shocking that Bedi who had been maintaining that she will always remain apolitical and keep raising the issues of people has joined the BJP. Our best wishes are with her," party leader Sanjay Singh had said. AAP chief Arvind Kejriwal had also taken a subtle dig at Bedi saying that he had also tried to convince her to take a plunge into politics.
"I do not wish to go into the past. I am in present and looking towards future. I have a right to make my own choices and nobody can question that. I want to lead my life as per my own wish," Bedi said.
Kejriwal and Bedi were part of the core team of activist Anna Hazare who had spearheaded a massive agitation to press for the passage of Jan Lokpal Bill in Parliament. The two had parted ways in 2012 after Kejriwal's decision to float a political party.
"I am not here to win or lose. I am here to see that the party wins. If I win I am excellent, if I don't win I still win. I have so much to go back to," Bedi further added.
Bedi, however, didn't respond to queries whether her entry in BJP is likely to play a gamechanger.
"Time will tell. We need a stable government in Delhi. A year has passed and we have paid a huge price," she said.
Bedi, who had been hailing Modi and supporting BJP through her Twitter posts since the start of campaign for Lok Sabha polls last year, said, "The change of leadership made me change my mind. The way Narendra Modi is changing the world around. The way NRIs are flocking into the country to invest now and the way the nation's hopes have been revived, the aversion has gone."
Bedi, 65, was inducted into the BJP fold in the presence of party president Amit Shah and Union ministers Arun Jaitley and Harsh Vardhan at the party's headquarters on Thursday.
Image: Kiran Bedi being inducted into the BJP by party president Amit Shah. Photograph: PTI photo