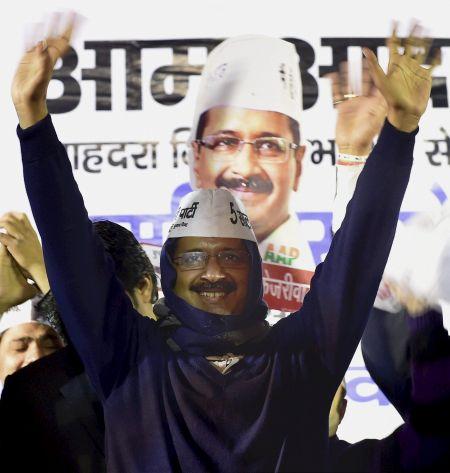 AAP's Arvind Kejriwal waves to his supporters during an election campaign in Jhilmil Colony, in New Delhi. Photograph: Kamal Kishore/PTI

The Delhi high court on Monday sought the response of Aam Aadmi Party chief Arvind Kejriwal on Congress candidate Kiran Walia's plea for cancelling his candidature in the upcoming polls for "illegally" declaring himself as a resident of New Delhi.
Justice Vibhu Bakhru also issued notices to the Election Commission, chief electoral officer and others seeking their replies by Wednesday on the plea of Walia, who is his rival from the New Delhi assembly constituency.
The court order came after Congress leader's advocate orally submitted that Kejriwal's candidature be cancelled as he has furnished wrong information to enrol his name in the electoral list. The court also said that all the respondents should make their stand clear on the next date of hearing on February 4.
Walia in her plea has alleged that the former Delhi chief minister has "illegally sought for inclusion of his name into the electoral roll of New Delhi assembly constituency by falsely declaring himself to be an 'ordinarily resident' of Delhi since past 22 months". She said in her petition that the AAP leader was always an "ordinary resident" of Flat No 405, Ginar Apartments, Kaushambi in Ghaziabad, Uttar Pradesh.
The petition alleged that the poll panel's decision to include his name in final electoral roll was "wholly illegal, unjustified, without application of mind, arbitrary and violates the principles of natural justice".
The EC has "illegally facilitated an outsider and a non-resident of Delhi, by registering his name into the electoral rolls and further accepting his nomination papers," the petition said.
The plea sought direction to deletion of Kejriwal's name from the electoral rolls of the New Delhi Assembly constituency. It also sought direction to the chief executive officer to decide on the objections and applications against the inclusion of Kejriwal's name in the voter's list.