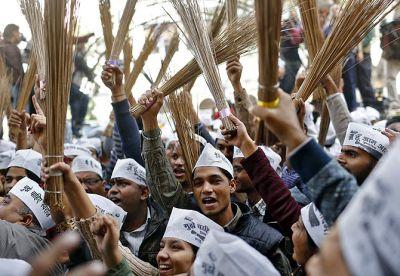 Taking serious note of reports that Aam Aadmi Party workers were intimidating voters in the Krishna Nagar Assembly constituency, the Bharatiya Janata Party on Saturday alleged that the Arvind Kejriwal-led party is violating the Model Code of Conduct during the election process in the national capital.
"This is the tactics that the Aam Aadmi Party is using. On the one hand, the Aam Aadmi Party says they have spies, they have cameras to look into all this, and on the other, they are the ones who are breaking all rules," BJP spokesperson Sambit Patra told ANI .
He also said the people of Delhi will teach the AAP a lesson for violating the Model Code of Conduct.
"They are the ones who are breaking the Model Code of Conduct. They are the ones who are breaking all the moralities in the election.... Today, when they are caught red-handed, they are trying to allege other political parties. But the people of Delhi will give them a befitting reply," he added.
BJP's chief ministerial candidate Kiran Bedi earlier in the day shared a video with the media showing a lady accusing Aam Aadmi Party of intimidating her to not vote for her party.
The polling in the single-phased legislative assembly elections in Delhi has crossed the 35 percent mark till 1 pm.
Polling for the 70-member Delhi assembly began at 8 am amid tight security.
According to the office of the Chief Electoral Officer of Delhi, all arrangements are in place to ensure free and fair polling.
About 55,000 police personnel have been deployed to ensure hassle free voting. The police will also undertake patrolling in different parts of the capital to prevent the distribution of liquor, money or any other allurements.
Over 1.33 crore electorate will decide the fate of 673 candidates.
The polling is presently on at 12,177 polling stations. Of these, 714 have been declared as critical and 191 as highly critical. Voting will continue till 6 pm in the evening.