In a hard-hitting attack on the Aam Aadmi Party, Prime Minister Narendra Modi on Saturday called it "backstabber" and asked Delhiites not to repeat the "mistake" of voting for the Arvind Kejriwal-led party.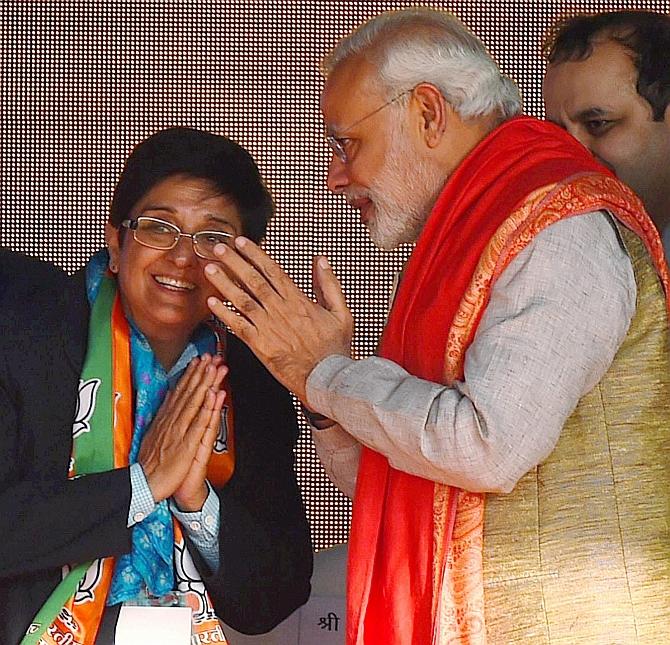 During his over half-an-hour address at an election rally, Modi sought a clear mandate for the BJP, which fell short of majority in the 2013 polls, and asserted that his party will provide such a clean and stable government which people have "never seen" in the past, countering AAP's key election plank.

Taking on AAP without naming the party, Modi made fun of its performance in the Lok Sabha elections, saying it "created a world record in forfeiting deposits".

"The very people whom you voted for last time stabbed in your back. They shattered your dreams and destroyed Delhi. You gave them a befitting punishment in Lok Sabha polls. People do not repeat their mistakes again and again.," Modi said in the rally at Viswas Nagar in East Delhi.

Calling Delhi the face of India, he said this election would decide how the country is seen at the global stage.

"There is no better place than Delhi for India's identity."

Modi also complimented Kiran Bedi, whose annointment as the party's chief ministerial candidate ruffled feathers in Delhi BJP, for her administrative abilities.

"She knows Delhi inside out. She has administrative experience and is well versed with the history and geography of Delhi. She is a woman with strong determination. She will take Delhi to new heights," the prime minister said.

Trying to woo the poor and the lower strata of the society, who are seen as backbone of AAP's support base, he said his government has already launched a war on corruption and promised in-situ development of slums.

"My government is for the poor. My plan is to replace all slums with concrete houses by 2022 when India celebrates its 75th year of Independence and I want to start it from Delhi," he said.

Modi also referred to the
opposition criticism over BJP leaders raising the successful visit of US President Barack Obama in Delhi poll campaign and said had his government made any mistake during the visit the same parties would have flayed him and made it an election issue.
"Had Obama gone after merely attending the Republic Day parade and done nothing else, our opponents would have gone to town raising the issue in the polls," he said.
Asking voters to give full majority to the BJP, Modi said he needed a government with whom he could work shoulder to shoulder as he wanted an opportunity to "serve" every lane of Delhi.
He also promised to clean up Yamuna river and beautify its surroundings and touted the government's move to transfer LPG subsidy directly to people's bank accounts as a major drive to curb corruption. In the last three months, nine crore families have already benefited from it, he said.
"You should elect such people with whom I can work shoulder to shoulder and help resolve your problems. I have come here on your invite after you elected me (as PM) and now want every chance to serve you. I have not come here merely to sit in South Block (PM's office) but to serve you. I have seen Delhi's destruction and now want to take it out of this mess," he said.
Comparing AAP leader Arvind Kejriwal, whom he did not name, with an auto-driver who cheats customer after making false promises, he said, "You cannot achieve success by fooling people again and again. They are still telling and misleading people with false promises, this won't work."
Modi, who was accompanied by party President Amit Shah, Bedi besides a host of other leaders, claimed that BJP could have formed government after 2013 assembly elections by indulging in horse-trading but chose not to because it was not given mandate to rule.
"You compensated for that by giving BJP all seven Lok Sabha seats. Do the same in assembly polls and accomplish the task which you left unfinished last time by giving BJP absolute majority. I am sure you will give BJP two-thirds majority," he said.