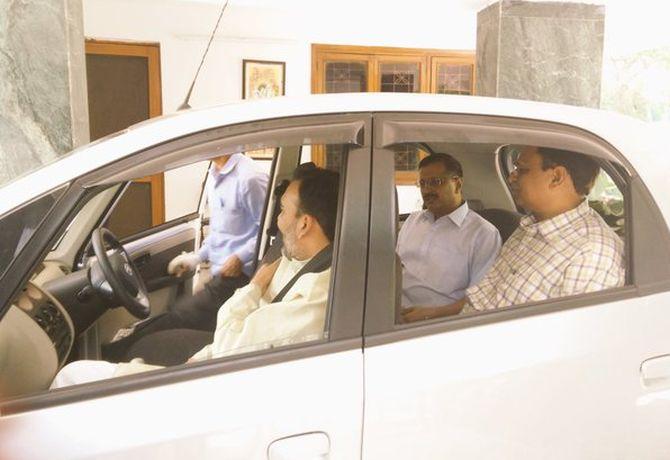 Delhi Chief Minister Arvind Kejriwal on Monday carpooled with Transport Minister Gopal Rai to reach his office as the second phase of odd-even scheme came under real test with reopening of offices, schools and other institutions after the extended weekend.
Heavy traffic was, however, seen at ITO and near Akshardham in the morning hours on the first day of road-rationing scheme.
"Today is the real test of odd-even. Like the first phase of the scheme, we all will have to make its second phase a success," the transport minister said.
Kejriwal and Public Works Department Minister Satyendar Jain on Monday carpooled with Rai to reach Delhi Secretariat. DTC and cluster buses were packed with passengers on some routes in Burari, Uttam Nagar and other areas.
Metro has increased its trips to accommodate more passengers during the scheme.
As Monday is the first full working day since the scheme was implemented, Delhi government has also deployed District Magistrates, SDMs, ADMs and tehisaldars to prosecute violators of the odd-even rules.
Besides, 210 teams of enforcement wing of the transport department and 2,000 traffic police have also been deployed on the capital's roads to prosecute errant drivers.
Unlike the scheme's pilot phase, in which the focus was more on awareness and voluntary compliance, the government has cracked the whip on violators this time, with over 2,300 challans issued in the first two days as against 479 during the same period in the previous phase between January 1-15.
The rules, whose violation attracts a penalty of Rs 2,000 under provisions of the Motor Vehicles Act, are applicable between 8 am and 8 pm, except on Sundays.
On Sunday night, Delhi Autorickshaw Sangh and Delhi Pradesh Taxi Union withdrew their call for strike on Monday after the city government gave them a written assurance that their demands would be fulfilled.
In the second phase from April 15-30, the government added to its exemption list people driving with school children in uniform.
However, the government has not been able to arrive at a solution to the problem of cars returning after dropping school children or heading towards schools in the afternoon hours to pick them up, and suggested car pooling.
Image: Delhi CM Arvind Kejriwal carpools with Transport Minister Gopal Rai on Monday during the odd-even scheme. Photograph: @Amitjanhit/Twitter