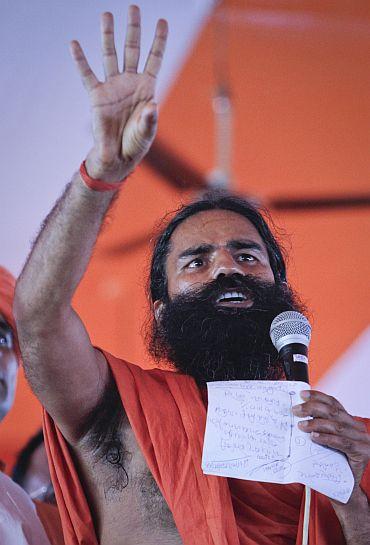 Baba Ramdev on Sunday night said he was determined to take forward his campaign against black money stashed in foreign banks, from Haridwar.

"I will resume my satyagraha from Patanjali Yogpeeth Ashram. Soon, the protest will shift to Noida. I will talk to Uttar Pradesh Chief Minister Mayawati in this regard on Monday," he told media persons in Haridwar.

The yoga guru had earlier in the evening tried to resume his stir from Noida. However, authorities turned him away, as Section 144 had been imposed in entire Uttar Pradesh.

The car carrying Ramdev was stopped by the UP police at Muzaffarnagar's border with Roorkee, Uttarakhand, at around 7.30 pm, Muzaffarnagar district officials said.

"Several of our activists are injured. About 5,000 supporters are missing. I am pained and sympathise with those who have been victims of brutality. We will not spare those who committed atrocities and will drag them to the Supreme Court."

Taking on the United Progressive Alliance government, which had forced him to leave Delhi in the wee hours of Sunday morning, Baba Ramdev said, "Sarkaar vikaas nahi, Ramdev ka vinaash chahti hain (The government doesn't want development; it wants the destruction of Ramdev).

The yoga guru claimed that the only reason he left Delhi quietly was because he did not want to create a law and order problem.

But he warned that he would take his protests to the national capital again, saying, "Delhi kisi ke baap ki nahi hain (Delhi doesn't belong to anyone's father)."

He also dismissed the allegations made by Congress ministers, especially party general secretary Digvijaya Singh, about the source of funding for his movement.

"I don't have any money or property. So they do the only thing they can, they target our Trust," he said, adding that these were attempts to malign his image.

He challenged the probe agencies to investigate the source of funding of the movement, claiming that he had nothing to hide.