Services at hospitals in Delhi, Uttar Pradesh and Maharashtra were severely affected as government nurses went on a country-wide indefinite strike on Friday, at a time when the capital and many other cities are grappling with rising cases of dengue and chikungunya.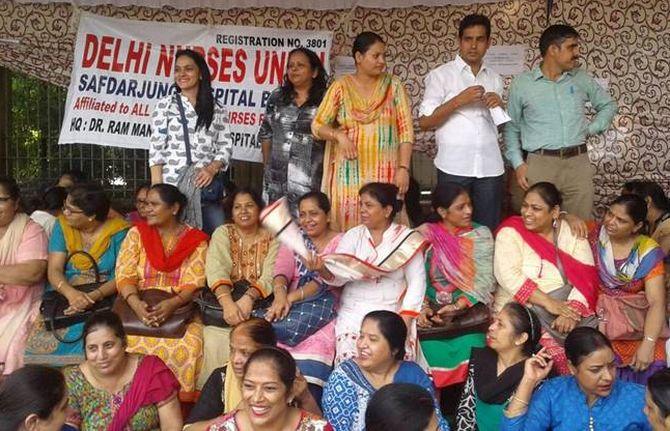 The massive protest has been called by the All India Government Nurses Federation and the Delhi Nurses Federation seeking redressal of issues related to pay and allowances.
Government hospitals in Delhi, including those run by the Centre, the city government or civic bodies employ about 20,000 nurses.
The AIGNF claimed that most government nurses joined the agitation, which was 'fairly successful'.
"As we had announced, we are attending to emergency and critical cases only. But from Sunday, that too will stop if our demands are not met. Besides Delhi, nurses in Uttar Pradesh, Punjab, Rajasthan, Maharashtra, Puducherry joined the protest," AIGNF spokesperson Liladhar Ramchandani said.
The Centre, later in the day, however, claimed only Maharashtra, Delhi and Uttar Pradesh were 'partially affected' by the strike.
Terming the agitation 'unfortunate', Union Health Secretary C K Mishra at a press conference, said the government hopes the issue will be resolved soon through dialogues.
Meanwhile, the Delhi government today invoked the stringent Essential Services Maintenance Act, declaring the stir illegal.
'The LG has approved the government's proposal to invoke ESMA against the agitating nurses,' a top official said.
The ESMA allows the government to declare a strike illegal in public interest.
The strike has hit patients, as several routine operations in hospitals were cancelled, Out Patient Department timings curtailed and emergency services affected too.
"No routine surgeries have taken place and elective surgeries have been postponed at our hospital. We are managing with interns and contractual nurses as not a single regular nurse is on work. We have been badly affected," said Dr Vikram Bhaskar of Kalawati Saran Children's Hospital in New Delhi.
Situation was similar at Lok Nayak Jai Prakash Narayan Hospital and Govind Ballabh Pant Hospital, both under Delhi government.
At Centre-run RML Hospital, authorities said, it 'managed with medical students (PGIMER) and junior resident doctors to make for the shortfall of staff'.
The hospital's Medical Superintendent, A K Gadpayle, however, issued a stern warning, and said, 'if nurses do not resume work, we may even terminate them.'
Mishra said the Health ministry has tried to resolve most of the problems and out of their nine main demands, seven have been met 'substantially or partially'.
"Two outstanding demands have been related to pay scale and allowances as recommended by the pay commission and allowances. As for allowances, there is no finality to it as the government has constituted a committee headed by the Finance Secretary which has invited the Nurses federation on September 12 for discussions," he said.
The Health Secretary said at Safdarjung Hospital, 6,981 patients were seen in the OPD on Friday while 220 patients were admitted into wards. 35 deliveries were conducted while 11 surgeries were also done. Similarly at RML Hospital, 5,603 patients were examined, 388 emergency cases were seen.
Asked what options does the ministry have if the nurses do not withdraw the strike, he said, "They are tough options."
However, he made it clear that taking these actions is the prerogative of the state government.
In Delhi, municipal hospitals like Hindu Rao and Kasturba Hospital too bore the brunt of the strike.
The nation-wide agitation has come at a time when Delhi and several other cities across the country are battling rising cases of dengue and chikungunya.
At least 487 cases of dengue have so far been reported in the national capital this season, with 368 of them being recorded last month. Eight deaths due to it have also been reported. At least 432 people have been diagnosed with chikungunya in Delhi so far.
Also, till July 28, 9,990 suspected chikungunya cases have been recorded in the country, with Karnataka reporting 7,591 cases. Also, over 15,000 cases of dengue have been reported across the country this year.
Several major hospitals in Delhi, swamped by patients suffering from vector-borne diseases, had till late Thursday tried to reach a common ground with their respective nurses associations, but in vain.
Delhi government runs nearly 40 hospitals out of which LNJP Hospital is the biggest.
Other major hospitals under it include GTB Hospital, DDU Hospital, Dr Baba Saheb Ambedkar Hospital and Chacha Nehru Child Hospital.
The nurses federation claimed that services were affected at all these hospitals.
Among the centrally-run hospitals, Safdarjung Hospital which employs 1,100 nurses, including 160 on contract, too suffered on account of the stir.
RML Hospital employs about 840 nurses of whom 236 are on contract. About 60 of its nurses were detained this morning for 'obstructing work' but were later released, police said.
Photograph: ANI/Twitter