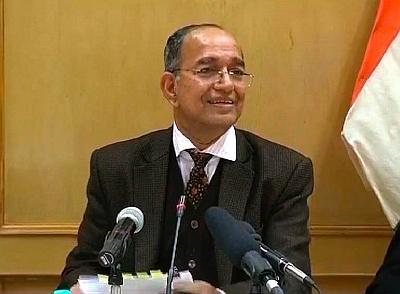 Assembly polls in Delhi will be held on February 7 and counting of votes will take place on February 10, the Election Commission on Monday said, announcing the much-awaited election schedule.
With the declaration of the poll schedule, the EC said the Model Code of Conduct will come into force with immediate effect.
The full commission, comprising Chief Election Commissioner V S Sampath and Election Commissionsers H S Brahma and Nasim Zaidi, said the notification for the polls will be issued on January 14 while the last date for filing nominations will be January 21. The last date of scrutiny will be January 22.
Sampath told a press conference here that 1.3 crore voters were eligible to exercise their franchise across 70 constituencies in the National Capital Territory of Delhi.
"The dissolution (of the Delhi assembly) order of the President will expire by February 15 and in order to restore the mandate of the people as expeditiously as possible, the Commission has decided to go in for elections where the results will be known well before February 15," Sampath said.
The CEC said that the NCT will witness a "very heated and hectic" political campaign as there are no polls being held anywhere in the country during this period and the "focus of all political parties" will be here.
He said the EC has put up mechanisms to conduct a free and fair election in Delhi and all measures to check the use of "money power" will be taken.
He said the updated electoral rolls for these elections have already been published on January 5.
The last government in Delhi was headed by the Aam Aadmi Party but Chief Minister Arvind Kejriwal resigned 49 days after assuming office.