Republican Party stalwart Narender Reddy, from Georgia, has been elected as alternate-delegate-at-large to the GOP National Convention in Minneapolis-Saint Paul, Minnesota, which will be held from September 1 to September 4.
The mother-daughter team of Mona Merchant, 61, and Monisha Merchant, 31, of Lakewood, Colorado, have been elected as Hillary Clinton's delegates to the Democratic National Convention, between August 25 and 29 in Denver, Colorado.
Reddy was elected during the State Republican Convention held on May 16 to 17 in Columbus, Georgia. Speaking at the convention, he urged the party leadership to make special efforts to bring ethnic groups like Indian Americans, who 'share the party's values', into its fold.
This is the second straight convention for Reddy, following his election in 2004 to the RNC convention in New York. That year, he had also served as Presidential Elector, and was party of the Electoral College from Georgia.
Reddy told rediff.com that this year, he presented facts and figures about the success of the Indian-American community, and stressed that though Georgia is becoming more of a melting pot, there is still a lack of a diverse population at the state convention.
He believes his fundraising for GOP candidates was a reason behind his election. State Governor Sonny Purdue had appointed him to the board of the Georgia Regional Transportation Authority and the Atlanta Regional Commission's Environmental and Land Use Committee, as reward for his services to the party.
During the GOP primaries, Reddy campaigned for former New York mayor Rudy Giuliani, but after his withdrawal from the race, he supported Senator John McCain.
"I'll be the first one to admit that Republicans in the past few years have strayed from its core principles of less government spending, etc, but I still think Senator McCain will be the right candidate to resolve the country's current economic problems. Also, I strongly believe in his experience and leadership skills in ending the war with Iraq on a note of victory rather than surrendering to terrorists," he said.
Reddy believes national security is a more important issue than the economy, and that belief further fuels his support for McCain. "It's very important to have a leader who can protect our country from the attacks of terrorists on our soil and our interests elsewhere."
Reddy is 'uncomfortable' with Democratic front-runner Senator Barack Obama's economic policies and inexperience in international affairs. "His economic policies indicate his leanings toward socialism, which is a direct threat to this country's core principles of capitalism," he points out.
He is also troubled by Obama's "willingness to sit down with leaders of Iran and North Korea without any pre-conditions."
Reddy believes McCain is ideally suited to further develop the strategic partnership between the United States and India, initiated during the Bush administration. McCain "is very much aware of the Indian-American community's contributions to this country's growth in various fields, as much as he is aware of India's rapid economic growth in recent years and has told me that he considers India as a strong strategic partner of the US."
Mona Merchant, born in Lahore in pre-Partition India, acknowledged that she had aggressively sought a dele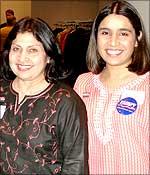 gate position. The retired biology professor told rediff.com that she had been involved with the Democratic Party since 1984, and has been elected as a DNC delegate state-wide in the party leader/elected official category. She is currently a member of the Colorado Democratic Party State Central Committee, and is the Colorado State House District 22 chairwoman.
She has volunteered with Hillary Clinton for the Presidential campaign since 2007, and was regional field director for Colorado for the Hillary campaign. "I am ecstatic to be representing Hillary's supporters across Colorado at the DNC Convention. I trust Senator Clinton's judgment, and my strong support for her is because throughout her career, Hillary has shown her courage and leadership for issues that directly impact working families — especially women and children," she said.
Her daughter  has also volunteered with the campaign since July 2007, and on occasion doubled up as surrogate speaker. She said she had "conducted over 20 information sessions for Hillary delegates at each stage of the process, and those who were participating for the first time appreciated these sessions and were the ones who rallied behind me during the delegate election."
Monisha was elected a DNC delegate at the Congressional District 7 convention, and like her mother, campaigned actively for the role. In the event, she received the highest number of votes amongst all of the national delegate candidates for Senators Clinton and Obama.
She credits her parents for getting her hooked to the American political process, and recalled that it all started in 1984 when "they let me stay up late to watch the results of the Mondale-Reagan election. In 1992, they encouraged my brother and I to be active volunteers in the Clinton-Gore presidential race."
A post graduate from the Yale School of Management and a former Truman Scholar, Monisha is currently director of product management at Level 3 Communications in Broomfield, Colorado. She has earlier worked as consultant, advising federal research and development agencies including National Aeronautics and Space Administration, the Department of Homeland Security's Science and Technology Directorate, the National Institutes of Health, and the National Science Foundation. She also has a stint as deputy country director for an international NGO in Indonesia, managing the water infrastructure reconstruction efforts in the Aceh and Java provinces.
Her respect for Senator Clinton is because she is "in awe of her grasp of the complexities that must be addressed for each issue important to Americans, and I fully trust her judgment."