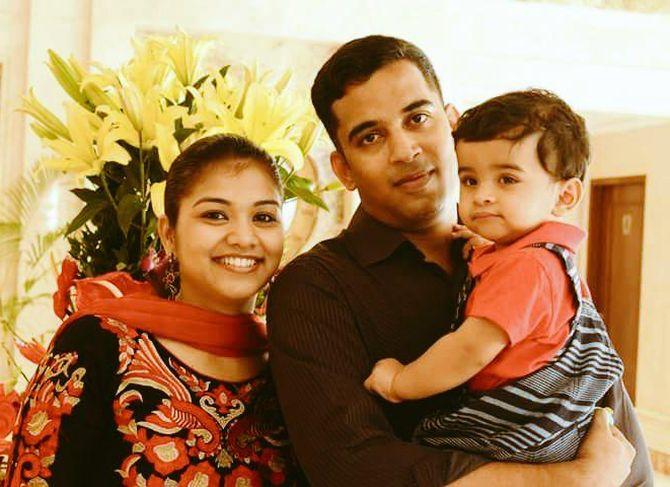 Deepa Subhash, the wife of pilot Subhash Suresh, tweeted this picture of her family. Photograph: @deepa_subash/Twitter

With intense search operations to trace the ill-fated Coast Guard flight that went missing on June 8 still on, the wife of one of the officers on board has appealed to Prime Minister Narendra Modi seeking his help in the matter.
"@PMOIndia 8 days since my husband Subhash Suresh pilot of CG791 missing. Request your attention," Deepa Subhash wrote on micro-blogging site Twitter, tagging the prime minister's official handle.
Deputy Commandant Suresh Subhash was one of the three officers on board the ill-fated plane that went missing on June 8 while on a routine sortie.
A battery of ships and helicopters besides submarine and other underwater gadgets have been deployed to find the Dornier CG 791 whose signal had been received recently.
After Deepa posted the Tweet with hashtag "#FindSubash", the post was retweeted by various members of the Twitterati, in an apparent gesture of support and for comforting the young woman who posted a photo of her husband as her profile picture.
Meanwhile, Amruta Soni, the wife of MK Soni, another officer on board the aircraft, also made a similar appeal. "@PMOIndia My husband Dy Comdt. #MKSoni & his crew missing for 8days now. #FindMKSoni #ICGDornier #FindCrew #RealHeroes #PrayForThem," Amruta tweeted.

More on the latest defence news, here