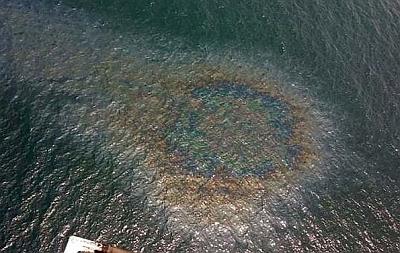 Naval survey ship INS Sandhyak on Saturday picked up beacon signals from the Coast Guard's Dornier aircraft, which went missing with three crew members on board on Monday night.
The location of the signals is said to be south of Puducherry between Port Novo and Karaikal, close to where it lost tracked by the radar.
According to a defence ministry release, "INS Sandhyak undertaking sub-surface search, detected intermittent transmission of 37.5 Khz, likely to be from the Sonar Locator Beacon of the missing aircraft."
"The transmission is around the position where the Air Traffic Control radar had lost contact of the aircraft. Submarine INS Sindhudhvaj is likely to arrive in the area late in the evening for further augmentation of sub-surface search."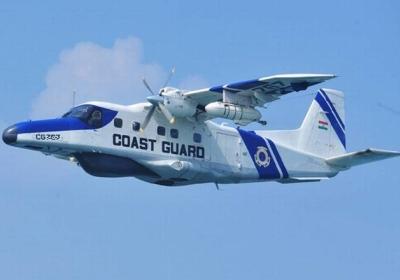 "National Institute of Ocean Technology has diverted its research vessel 'Sagar Nidhi' and is likely to arrive in the area for augmenting underwater search by June 14," the release said.
A multi-coloured sheen of oil in concentric circles was sighted which indicated oozing of oil. The sample of oil has been sent to the laboratory for analysis.
The missing Dornier aircraft was inducted into the Indian Coast Guard in 2014, and was being flown by a highly experienced crew of Deputy Commandment Vidyasagar (pilot), Commandment MK Soni (co-pilot) and Deputy Commandment Subhash Suresh (navigator).
The German-designed aircraft made by the Hindustan Aeronautics Limited attached to 744 Fixed Wing Squadron of the Coast Guard took off from the Air Station at Meenambakkam at 6.05 pm on Monday.
The aircraft completed its mission in the south Tamil Nadu coast and Palk Bay before it went missing at 9.23 pm from the radars at the Chennai and Tiruchirapalli airports.
A total of 10 Coast Gurad and Indian Navy ships with two aircraft are undertaking the search for the missing aircraft at the time of this edition of the press release.
Photograph Courtesy: Sitanshu Kar/MoD spokesperson on Twitter