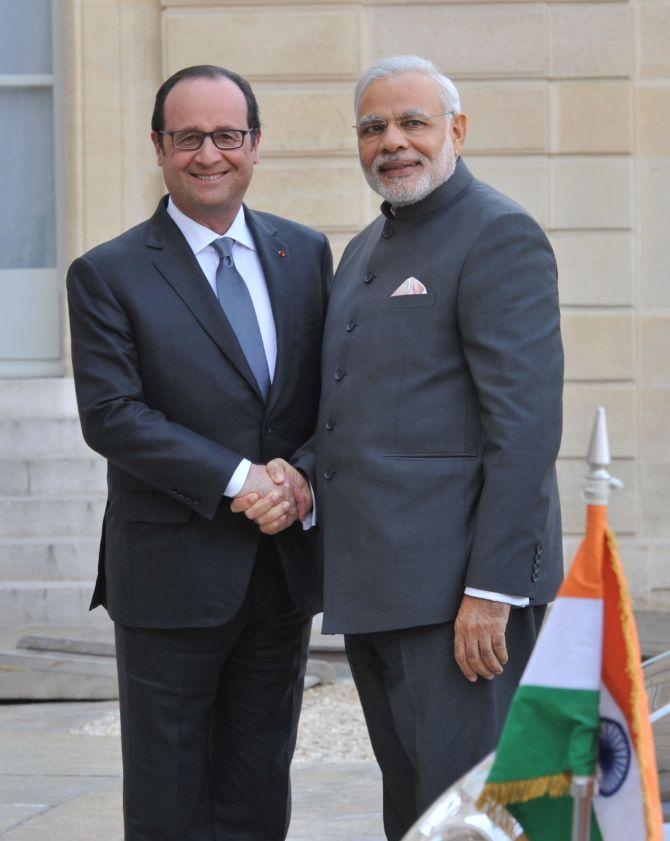 Marking a breakthrough in the protracted talks in the French Rafale jet deal, Prime Minister Narendra Modi announced on Friday that India will purchase 36 of these fighter planes that are ready to fly, citing critical operational requirement of the Indian Air Force.
The announcement was made by Modi at a joint news conference with French President Francois Hollange after their summit talks at Elysee palace.
India and France were locked in negotiations for three years over the purchase of 126 Rafale fighter jets valued at 12 billion USD (around 746 crore) but has been bogged down over cost and Dassault Aviation's reluctance to stand guarantee for 108 planes to be made by state-run Hindustan Aeronautics Limited.
"Keeping in mind critical operational necessity of fighter jets in India, I have talked to him (Hollande) and requested for 36 Rafale jets in fly-away condition as quickly as possible under government-to-government deal," Modi said.
An agreement on proceeding forward on the stalled nuclear project in Jaitapur in Maharashtra was among the 17 pacts signed after the talks between Modi and Hollande. The Jaitapur project, where French company Areva is to set up six nuclear reactors with total power generation capacity of about 10,000 MW, is stuck for long because of differences over the cost of electricity to be generated.
The agreement between India's Larsen and Toubro and France's AREVA is aimed at cost reduction by increasing localisation, to improve financial viability of Jaitapur project.
Another pact related to Pre-engineering agreements between NPCIL and AREVA in connection with studies that is intended to bring clarity on all technical aspects of the plant so that all parties (AREVA, ALSTOM and NPCIL) can firm up their price and optimise all provisions for risks still included at this stage in the costs of the project.
It will also enable transfer of technology and development of indigenous nuclear energy industry in India.
France also informed India of its decision to implement a scheme for expedited 48 hours visa issuance for Indian tourists.
"There is no such sphere where India and France are not cooperating. France is among India's most valued friend," Modi said.
France also announced an investment of 2 billion euros (about USD 1 billion) in India as Modi invited French companies to pump in money in technology in the fastest growing economy.
France will invest 2 billion euros in India, Hollande announced at a CEO forum in Paris.
Inviting French investors, Modi said, "There is no bigger market than India. It is also the fastest growing economy since the last six months. Various rating agencies like World Bank and Moodys have said in one voice that India is the fastest growing nation.
"It is rare to find a country with a market, with the government determined on development and demographic dividend. Investors are usually worried about the security of intellectual property (IP). Only democracies like India can guarantee that," he said.
Addressing a CEOs forum, Hollande said: "We are ready to allocate through French companies 2 billion euros to support India's sustainable development."
He said France will partner India in Urban development of infrastructure like railways and defence and nuclear sector.
Noting that President Hollande has supported 'Make in India' initiative especially in defence sector, Modi said at the joint news conference that the two countries have decided that the Rafale jets will be provided to India in modified terms and conditions.
"Today, we have taken defence cooperation between India and France to new levels."
"I had very good talks with President Hollande. Our defence sector ties are old. In defence equipment and technology. France has always been a reliable supplier. From fighter jets to submarines, our ties have been foremost," he said.
Modi said that in the area of Nuclear power, France has been a major partner with India.
"I am happy that in Jaitapur, we have made progress on setting up 6 nuclear power projects. Both have signed an agreement on reducing the cost of power production and more technical support and further study.
Especially, Areva and L&T have signed an agreement for making forgings in India. I feel this agreement is very significant and will be a perfect example of 'Make in India' and will take India to a new place in the area of advance technology." he said.
On other issues, Modi noted that there is a challenging atmosphere in the world and that there is turbulence in different areas due to which all are affected. "In this changing world, there are a number of uncertain questions on stability."
"Terrorism is spreading and taking new shapes. This challenge is being tackled in different forms and to tackle that an extensive strategy is to be evolved. Be it Paris or Mumbai, India and France have understood each other," Modi said.
The Prime Minister said it is the responsibility of every nation to lend support in the fight against terror and not allow terror groups to take shelter and punish the terrorists as soon as possible.
"India and France similarly views these challenges and that is why we will further strengthen our security ties," he added.
Image: Prime Minister Narendra Modi with the President of France Francois Hollande in Paris. Photograph: PIB