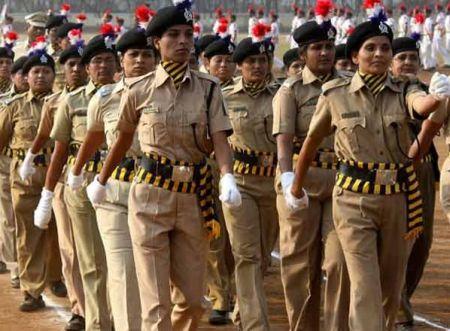 The landmark move comes days after the government approved women fighter pilots for the Indian Air Force.
In a first, border guarding force Indo Tibetan Border Police Force has decided to deploy women personnel in combat duties at its high-altitude posts along the Indo-China border.
The force is training a special contingent of 500 'mahila' constables for the task and these personnel are expected to take position at the border by early next year.
"This is for the first time that we are deploying women personnel in full combat role right at the border. The aim is that women work shoulder-to-shoulder with men in this force. We are preparing infrastructure for them at these locations and they will take charge soon," ITBP Director General Krishna Chaudhary said on the eve of the forces' 54th Raising Day.
In an another proverbial breaking of the glass ceiling, the about 60,000 personnel strong force will also induct women officers for the first time.
Chaudhary said the force has already sent a request to induct women officers in the entry-rank of Assistant Commandants to the UPSC.
"We are looking forward to have more and more women to come into the force. We want them in officer ranks so that they can lead our battalions. The women personnel who are in the force are doing good work and this is a positive indicator," he said.
ITBP is the only force till now which did not have women coming into the force in class 'A' officer rank like Central Reserve Police Force, Border Security Force, Central Industrial Security Force and Sahastra Seema Bal.
The DG said they have envisaged a "modest" role for these women personnel to be posted on the border and it has been decided that about one-third of the strength of a border post, where men and women troops are posted, will be kept female.
Officials said the first deployment of this maiden women squad will be made in the Ladakh sector of Jammu and Kashmir where ITBP troops man posts at a height of over 8,000 feet and more.
"We have not set any scale of work for these women. They are as good as men and I think they are trained to render any task," he said. The force has a total of 1,661 women personnel in its various ranks and branches of work with the maximum number of 1,033 being in the constabulary ranks.
The women constables of ITBP were till now deployed for rendering law and order duties in troubled areas and in few instances they have been posted at the Nathu La trade pass for facilitating traders and frisking women members.
In a landmark move, the government recently had approved induction of women fighter pilots in the Indian Air Force, the first time when women would be in combat role in the country's armed forces.