The Indian Air Force argued that Hindustan Aeronautics Limited's HTT-40 trainer jet would be costlier than the Swiss Pilatus trainer over its 30-year service life. When HAL challenged this contention, the IAF was not able to back it with figures.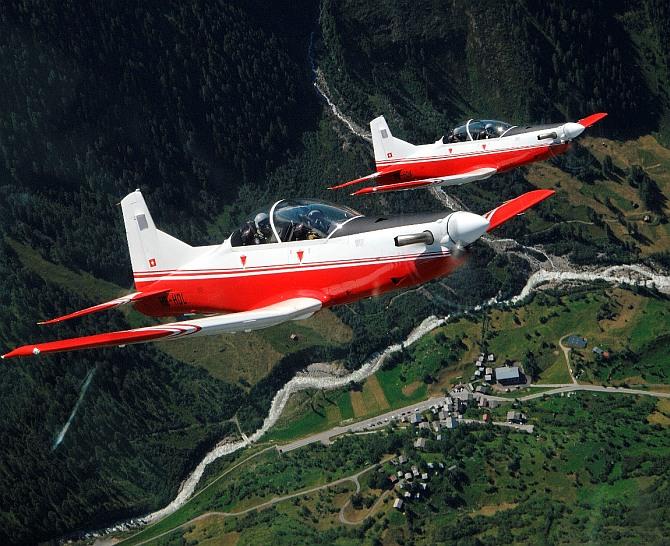 The moment of truth has arrived in the long-running duel between the Indian Air Force and Hindustan Aeronautics Ltd over which trainer aircraft should be used for teaching IAF rookies to fly.

Business Standard has learnt that on Tuesday morning, the defence ministry will hold a special meeting of the apex Defence Acquisition Council, chaired by Defence Minister Manohar Parrikar, to definitively choose between their competing demands.

The IAF wants the Swiss Pilatus PC-7 Mark II, while HAL wants to supply the Hindustan Turbo Trainer-40 (HTT-40) it is developing, slated to fly next year.

On Thursday, both sides made final presentations before MoD.

In 2009, the ministry had ruled that the IAF would buy 75 trainers from abroad, while HAL developed and built 106 HTT-40 trainers in India, thus meeting the IAF's need for 181 aircraft.

In May 2012, the IAF bought 75 Pilatus PC-7 Mark II trainers for 577 million Swiss Franc (Rs 3,727 crore).

Then, the IAF demanded the HTT-40 programme be scrapped, and 106 more aircraft be bought from Pilatus. It alleged the HTT-40 was too expensive, would take too long to deliver, and that the IAF could not operate two different kinds of basic trainer aircraft.

On Thursday, HAL forcefully rebutted these contentions before a high-level MoD "categorisation committee".

HAL officials stated the HTT-40 was cheaper than the Pilatus, which has priced the PC-7 Mark II at 6.09 million Swiss Franc each (Rs 38.5 crore). HAL has priced the HTT-40 cheaper at Rs 32.8 crore per aircraft.

A key part of HAL's presentation focused on the HTT-40's high indigenous content.

Unlike the Swiss aircraft, which is bought over-the-counter without any indigenisation, HAL promised the HTT-40 would be 70 per cent indigenous.

HAL explained that of its trainer's 95 systems, 55 are of Indian design and build. Another 35 systems will be built in India with transferred technology, including the aircraft's Honeywell engine. Only five systems will be built abroad.

HAL explained this would make it easy to support the HTT-40 through its service life.

The 53 PC-7 Mark II trainers already delivered by Pilatus face problems with service support. Pilatus has asked HAL to negotiate licensing and service agreements with more than 28 separate vendors.

"If Pilatus is playing hardball with the IAF with a contract for 106 trainers in the offing, imagine how difficult they'll be when that contract is in the bag," an HAL official told the MoD.
HAL officials made another powerful argument to the MoD on Thursday -- that "end user" agreements with Pilatus ban India from weaponising the PC-7 Mark II, which means kitting it out as a light fighter with guns, bombs and rockets.

In contrast, weaponising the HTT-40 and selling it to allies like Afghanistan would require no foreign permission.

HAL also briefed the MoD on the progress of the HTT-40, which is expected to make its first flight next year.

The MoD was shown photographs of the HTT-40's front fuselage, which is already built.

Finally, countering the IAF's argument against two types of basic trainers, HAL told MoD that several air forces operated two basic trainers.

The Turkish Air Force has bought the indigenous Hurkus trainer, even as most of its pilots train on the T-37 Tweety Bird. Ankara did this to support the Hurkus, which is built by Turkish Aerospace Industries.

The IAF argued the HTT-40 would be costlier than the Pilatus trainer over its 30-year service life. When HAL challenged this contention, the IAF was not able to back it with figures.

The MoD categorisation committee will deliver important inputs into the DAC meeting on Tuesday. The final choice will be exercised by the DAC.

"Backing the HTT-40 would be in line with the prime minister's 'Make in India' thrust. It would help create a network of small and medium aerospace suppliers that would be essential for future indigenous aircraft programmes," said Pushpindar Singh, publisher of Vayu Magazine and an aerospace expert.

Rookie pilots learn to fly in 80 hours of Stage-1 training in a basic trainer.

Those found fit to become fighter pilots then do Stage-2 training on the Kiran trainer, which will be replaced by the Sitara Intermediate Jet Trainer that HAL is developing. Stage-3 training is on the Hawk Advanced Jet Trainer, after which pilots graduate to frontline fighters that they would fly into battle.

Read more defence news HERE