Smuggling and crime are everyday instances. The 70,000 people in villages along the border make the going tough for the BSF. Neelabh Srivastava reports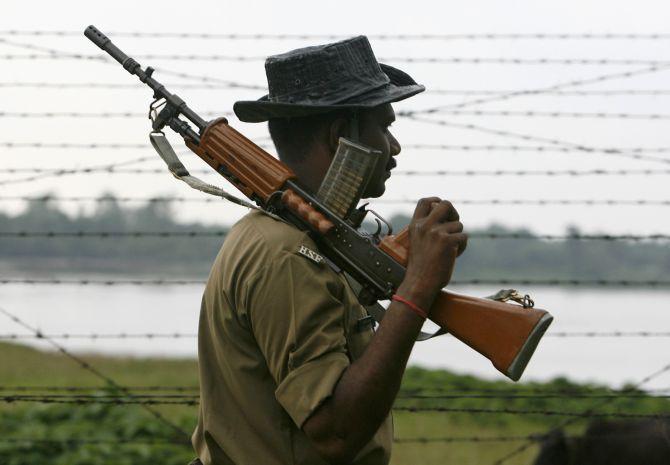 A Border Security Force soldier keeps watch along the fenced border with Bangladesh. Photograph: Rupak De Chowdhuri/Reuters

Not covered by the historic the land boundary agreement with Bangladesh, about 260 Indian villages with a total of 70,000 residents which lie in the 'no man's land' between the two countries continue to pose a vexed challenge for troops looking to secure the border against smuggling and influx of fake currency.
While the land pact provides for the activation of the 1974 India-Bangladesh agreement for exchange of 161 border enclaves adversely-held by the two neighbours, an exact solution to the vexed status of these villages situated just ahead of the International Border fence remains hanging fire.
"There are villages which are located ahead of the border fence and are different from the areas which are covered under the LBA. Shifting these villages inside the IB will be very useful. We have taken up the matter a number of times with the authorities but there has been no progress."
"The population living in these villages is vulnerable to a number of unlawful acts and attempts from the other side," Border Security Force Inspector General (South Bengal Frontier), Sandeep Salunke, said at his headquarters in Kolkata.
BSF troops deployed along the 'first main pillar' of the Indo-Bangladesh border at Panitar showed PTI how the meandering IB leads to a unique situation wherein two adjoining houses, separated by a mere 10-metres between them, come under the jurisdiction of either country.
Along this 4,096-km long border, BSF officials say, there are about 260 villages with about 70,000 men, women and children living in them.
In the South Bengal corridor alone -- comprising the border crime prone areas of North 24 and South 24 Parganas, Nadia, Murshidabad and Malda districts -- there are 54 such villages with a population of 30,074 living in 4,749 houses.
"This is like living on no man's land. The problem is historic and border-guarding troops face some unique challenges for which we have deployed dynamic strategies like maintaining photographic registers and regularly identifying and updating data to know who is new to the area," BSF Commanding Officer Ratnesh Kumar said after undertaking a routine tour of Chakpanitar village.
Salunke said that as the number of these villages is "not very big", a lasting solution for effective border management would be to bring them inside the border fence.
"This has been our repeated request, but there has been no solution... The people who live in these villages do not want to shift elsewhere as they have their life-long investments here. Incidents of smuggling and crime are serious concerns in these areas," he said.
BSF troops and officers say they detect several instances every day of smuggling of basic food items, cigarettes and household goods in these areas with the women and children living in these villages made to act as couriers for such activities.
Forces' Deputy Inspector General (Intelligence), SP Tiwari, said operating in such circumstances has led to the filing of as many as 153 cases of harassment or illegal entry against BSF personnel in the last two to three years, something which is demoralising for the troops.
Inspector General Salunke said that a 200-km section of the border fence on the 915-km-long South Bengal sector of the Indo-Bangladesh border is in a "state of very urgent maintenance" as a physical barrier is required where there is population living on the frontier. "But there are no funds available for maintenance of this for at least a decade now," Salunke said.
The BSF also wants to fence the riverine areas of this border for effectively dominating the area and hence a pilot project for installation of an embedded under-water fence is currently on in the Gojadanga area in the North 24 Parganas district of West Bengal.
"The CPWD is working on something called the 'infinium' or 'infinite aluminium' fence for the riverine border areas. It is just at the pilot project stage as of now," he said.
The major crimes in these villages include smuggling from Bangladesh into India of a variety of goods, fake Indian currency notes and gold, officials said. There are also cases of illegal border crossing, fence breaching and kidnapping of locals.
"I was abducted by Bangladeshi people when I was working in my field ahead of the fence last year. The other side had some problems after (Indian) security agencies picked up some of their men. I was released after languishing two months in captivity in Bangladesh," said Tapas Ghosh, a resident of Noonaganj village.
The illegal traffic from the Indian side into Bangladesh includes cattle, Phensedyl cough syrup (abused as a narcotic in Bangladesh), drugs, gold and silver ornaments and automobile parts.
"The ethnic similarity between the people on the two sides, their similar language and dialect, the presence of cattle 'haats' along border areas -- these are some of the factors that render these villages vulnerable to crime while at the same time making it difficult for BSF to mount an effective vigil," a BSF officer said.
An early resolution vis-a-vis the status of these villages will bring sanctity to the International Border, the officer added.