Hundreds of serving and veteran officers on Friday celebrated bicentenary of the first battalion of Gorkha Rifles (1/3 GR) with vigour and zest at Pathankot.
Veterans, serving officers, junior commissioned officers and other ranks both from India and Nepal attended the event, a defence spokesman said.
Unit's bicentenary celebrations commenced with a solemn memorial service in honour of the martyrs. Thereafter, a Guard of Honour was presented to Lt Gen Ravi Thodge, Colonel of the Regiment, the spokesman said.
He also addressed a Special Sainik Sammelan and released a befitting First day cover to commemorate the landmark occasion.
The Battalion was raised on April 24, 1815 from the remnants of Gorkha General Amar Singh Thapa's forces who valiantly fought the British at the Malaun Fort near Shimla.
The raising of battalion signalled the birth of present day Gorkha Brigade, he said.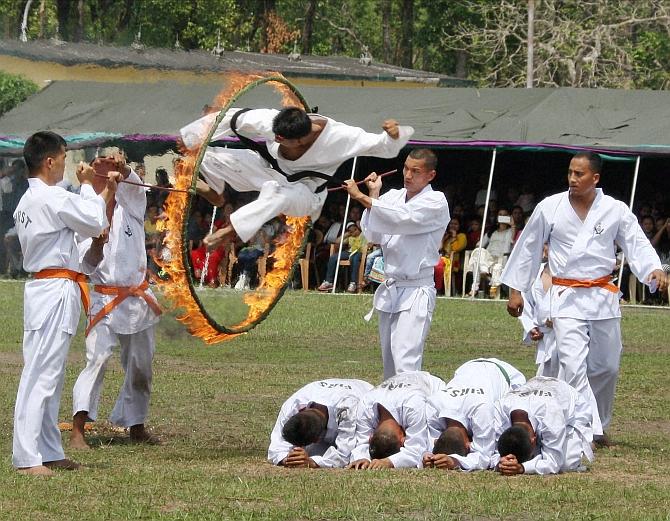 Image: Jawans of the 1st Battalion of the 'Third Gorkha Rifles' (1/3 GR), perform stunts during a ceremony to commemorate its bicentenary in Siliguri, West Bengal on Friday. Photograph: PTI Photo
Veer Naris and Gallantry Awards winners were also felicitated during the event.
Over the last two centuries of the battalion's existence, it has time and again proven it's worth by gallant actions in various fields of battle across the world, through the two World Wars, the Indo-Pak wars and in the conflicts of the sub-conventional realm, he said.
The event was a reunion for erstwhile comrades-in-arms who travelled from across the globe to be together at this momentous once-in-a lifetime occasion, he said.
The spirit of bonhomie and espirit de corps was on display during the course of the reunion was emblematic of the strong ties forged between officers and men alike, in the face of adversity, baptised by fire and having yet emerged triumphant time and again, the spokesman said.