Dassault Aviation chief Eric Trappier has made it clear it would take at least three years to deliver 36 Rafales to the Indian Air Force. Ajai Shukla reports.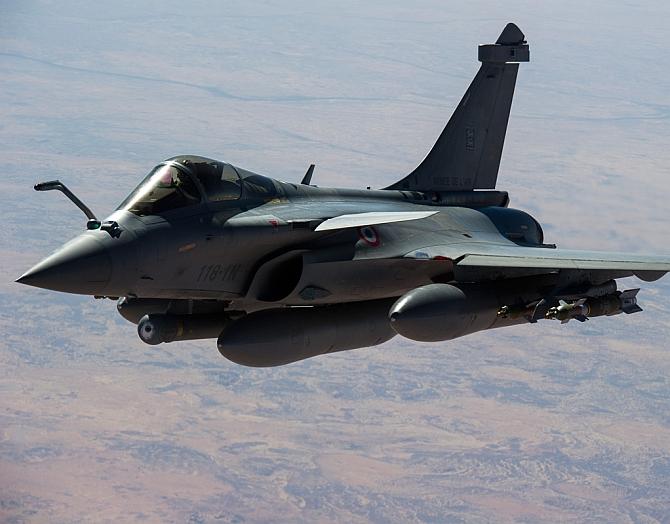 After several contradictory statements from Defence Minister Manohar Parrikar about India's proposed purchase of 36 fully built Rafale fighters, there are now clarifications from Eric Trappier, chief executive of Dassault Aviation, the French company that builds the Rafale.
In an interview to the respected trade journal, Defense News, Trappier said the Indian Air Force could buy more than just 36 Rafales, a question that Parrikar has vacillated on.
The defence minister has stated that India would buy just 36 Rafales instead of the originally planned 126; and the money saved would be spent on Tejas light combat aircraft.
Trappier made it clear it would take at least three years to deliver 36 Rafales to the IAF, given that Egypt and Qatar are ahead of India in the line to receive the fighter.
Parrikar had stated on April 11 in Goa that the IAF would be delivered its fighters within two years.
Dassault's production rates make even three years seem an over-ambitious delivery target.
Trappier says the current production of 11 Rafales per year for the Armee de l'Air (French Air Force) would be entirely diverted for export to Egypt and Qatar. Deliveries to the Armee de l'Air are suspended till at least 2020.
For supplying India, Dassault would have to step up Rafale production rates, said Trappier.
Defense News did not ask how quickly production could be enhanced. Delivering 36 Rafales to India within three years would require Dassault to more than double its current production with immediate effect.
Industry analysts point out that fighter assembly lines require at least 18 months lead time for stepping up output.
That leaves serious unanswered questions over Trappier's projection of supplying 36 Rafales to India in three years.
The Dassault chief correctly points out that building in France would be quicker than negotiating a deal with New Delhi and establishing licensed production in India.
A pre-requisite for this would be the signature of a contract for 36 Rafales, which Trappier expects by end-2015.
"The decision to go to a sale on a government-to-government basis will help speed things up", he says.
Rafale deliveries would be additionally complicated if any other countries decide to buy the fighter.
Trappier, well known as an optimist, claims "There is interest in the Middle East, Asia, even North and South America. I am not saying the US is going to buy the Rafale, but if it wants to, it can."
Trappier also hints that Canada might decide against Lockheed Martin's F-35 Lightning II and opt instead for the Rafale.
He indicates Belgium might also opt for the Rafale, as also the UAE.
"[Dassault and UAE have] never stopped talking about the Rafale for the last 10 years… It's a prospective client", claims Trappier.
On the crucial question of cost, Trappier claimed that in a tender in South Korea, "the Rafale cost less than the F-15", a US-built fighter that Dassault was competing against.
It has been estimated that the bid for the F-15 would likely have been in the region of $80 billion.
Eric Trappier is the chairman and chief executive of Dassault, a company that supports 11,600 French jobs and reported revenue last year of Euro 3.68 billion.